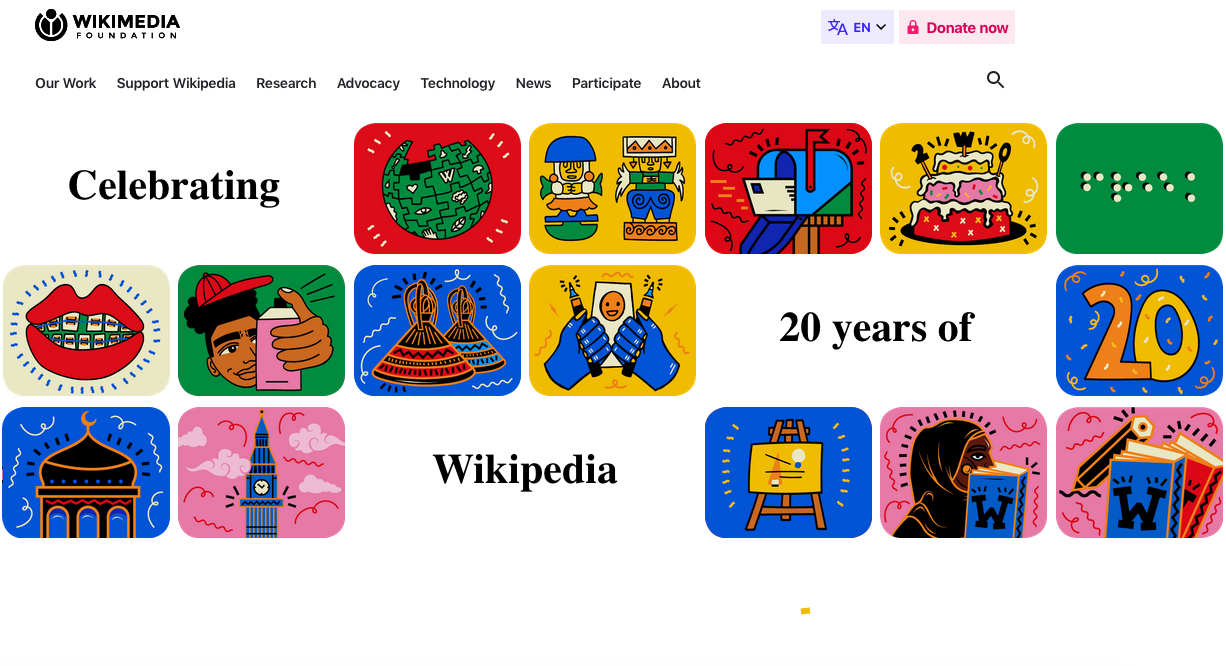 26.01.2021
Wikipedia's 20th anniversary revives debate about its reliability and the need for critical thinking skills in students
by Pisana Ferrari – cApStAn Ambassador to the Global Village
Wikipedia, the online encyclopedia, turned 20 on January 15. With its 55 milion articles in 300 languages it is the 13th most visited page on the web. Wikipedia entries are generally in the forefront of preliminary web research on almost any topic. The very feature that has made it so successful, i.e. that it is volunteer-run and anyone can contribute or edit content, is what makes it very vulnerable. Its much publicized anniversary has revived a long standing debate around it's reliabilty, in particular given how widely it is used by students worldwide, often to the horror of teachers. Wikipedia itself warns that it is not possible to monitor everything and that "it should not be considered a definitive source in and of itself". Which is why teaching students to look critically at the reliability and credibility of online information sources is fundamental to the educational process. It is an essential skill for 21st century students.
The IEA has recently pointed out to the fact that computers are used in education more than ever in the pandemic and the issue is increasingly pressing. It refers to the results of ICILS 2018, which were alarming in this respect. The study found that 18% of students interviewed did not reach the lowest computer and information literacy level, and just 2% showed ability to critically assess online information. More than 46,000 students and 26,000 teachers took part in this cycle of ICILS. The results called into question the generalization that young people are "digital natives", who through exposure to the use of digital devices develop expertise in their use. Students need to be taught how to use computers effectively.
Results of the OECD's PISA 2018 are equally disconcerting: fewer than 1 in 10 students in OECD countries were able to distinguish between fact and opinion, based on implicit cues pertaining to the content or source of the information. PISA 2018 assessed around 600,000 15-year-old students in 79 countries and economies on reading, science and mathematics. Each PISA cycle has a main focus on one of these three domains: for PISA 2018 it was reading literacy. Studies conducted by the OECD and IEA are extremely important in this respect because they help understand and compare education ecosystems across the world and gather meaningful information for policy makers and education stakeholders. (§)
Learning to use Wikipedia critically
Wikipedia has been accused of deficiencies in comprehensiveness because of its voluntary nature, and of reflecting the systemic biases of its contributors. Banning it, as many academic institutions worldwide have done, may not be the best way to go. Rather, students should be taught to use it critically. Wikipedia editors not only address accuracy issues in the entry Reliability of Wikipedia, which compiles the results of international third-party assessments, across a variety of disciplines, but also provide guidance on how to best use it. Relevant entries include: What Wikipedia is not; Manual of Style/Self-references to avoid; Verifiability of Wikipedia and sources that mirror or use it; Reliable sources; Wikipedia is not a publisher of original thought; Academic use; Research help.
The authors of an article titled "Wikipedia, friend not foe", say that Wikipedia's transparent and participatory nature invites visitors to question what they're reading in ways that static, expert-driven reference texts do not. They claim Wikipedia should be used as a platform for research, and invite teachers, after introducing students to Wikipedia, to use the site as an entry point into deeper and more creative research than typical assignments require. "Wikipedia provides a unique opportunity to get students involved in ongoing conversations about writing for a real audience, meeting genre expectations, establishing credibility, revising for clarity and purpose, and entering public discussions about the nature of truth, accuracy, and neutrality".
How does Wikipedia compare with traditional encyclopedias?
The authors of the above-mentioned study make the case that because Wikipedia is constantly evolving, its entries often include unconventional sections that might never have been included in a traditional encyclopedia. Such topics—often hyperlinked to out-side websites and sources—offer further potential for student investigation and personal engagement. Cathy Davidson, Professor of Interdisciplinary Studies at Duke University, has also pointed out that, unlike comparable print sources, Wikipedia errors can be corrected, often even in a matter of hours after publication.
Conclusions
As the PISA 2018 report says, in the current "post-truth" climate, where quantity seems to be valued more than quality, when it comes to information, education is no longer just about teaching people something, but about helping people build a reliable compass and the navigation tools to find their own way through an increasingly volatile, uncertain and ambiguous world. "Figuring out how to evaluate Wikipedia, says the author of an article in Teaching History, "is one excellent starting point for teaching students how to assess massive amounts of information they're likely to encounter online both for school work and personal exploration".
Footnotes
§ At cApStAn Linguistic Quality Control we are proud to have been asked to verify the translations – with a view to maximizing comparability across language versions – of the ICILS data collection instruments. We have had the privilege of working with IEA for 19 years, including on other flagship projects such as TIMSS, Trends in International Mathematics and Science Study and PIRLS, Progress in International Reading Literacy Study. PISA 2018 is the seventh PISA cycle in which cApStAn was charged with maximising cross-language and cross-country comparability – we started our collaboration with PISA in 2000. For the PISA 2018 programme we verified 106 translated or adapted versions of the survey instruments.
Sources
"Happy Birthday, Wikipedia. Lessons from the success of a different sort of tech titan", The Economist, January 9, 2021
 "Wikipedia: Friend, Not Foe", Darren Crovitz and W. Scott Smoot, National Writing Project,
"Comparing Wikipedia and Britannica", Timo Hanney, Nascent, December 15, 2005
"Wikipedia: Credible Research Source or Not?", Teaching History,
Photo credit: Wikipedia
21st century skills Artificial intelligence cApStAn updates Conferences DEI-BR Education Evolution of language Films Fun with languages Healthcare Language advocacy Languages/Linguistic curiosities Linguistic research Literary translation Neural Machine Translation Others Professional certifications Surveys and Opinion Polls Survey translation and localisation Talent Management Tests and Assessments Test translation and localisation Translation industry Translation profession Translation technology