Language Solutions for Linguistic and Cultural Comparability
World-class translators, linguists, translation technologists and subject matter experts manage the language component of your multilingual projects
Translating literary works related to indentured migration as an act of social justice
Read More
Testimonials
The quality of the work performed by cApStAn in each PISA survey has been exemplary. A Project Administrator at the OECD
What People Are Saying
Disentangling Proficiency in Programming from Proficiency in English: Codility Meets cApStAn
Learn More
Some of the Fields We Work In
Some of Our Clients
The Added Value of Linguistic Quality Assurance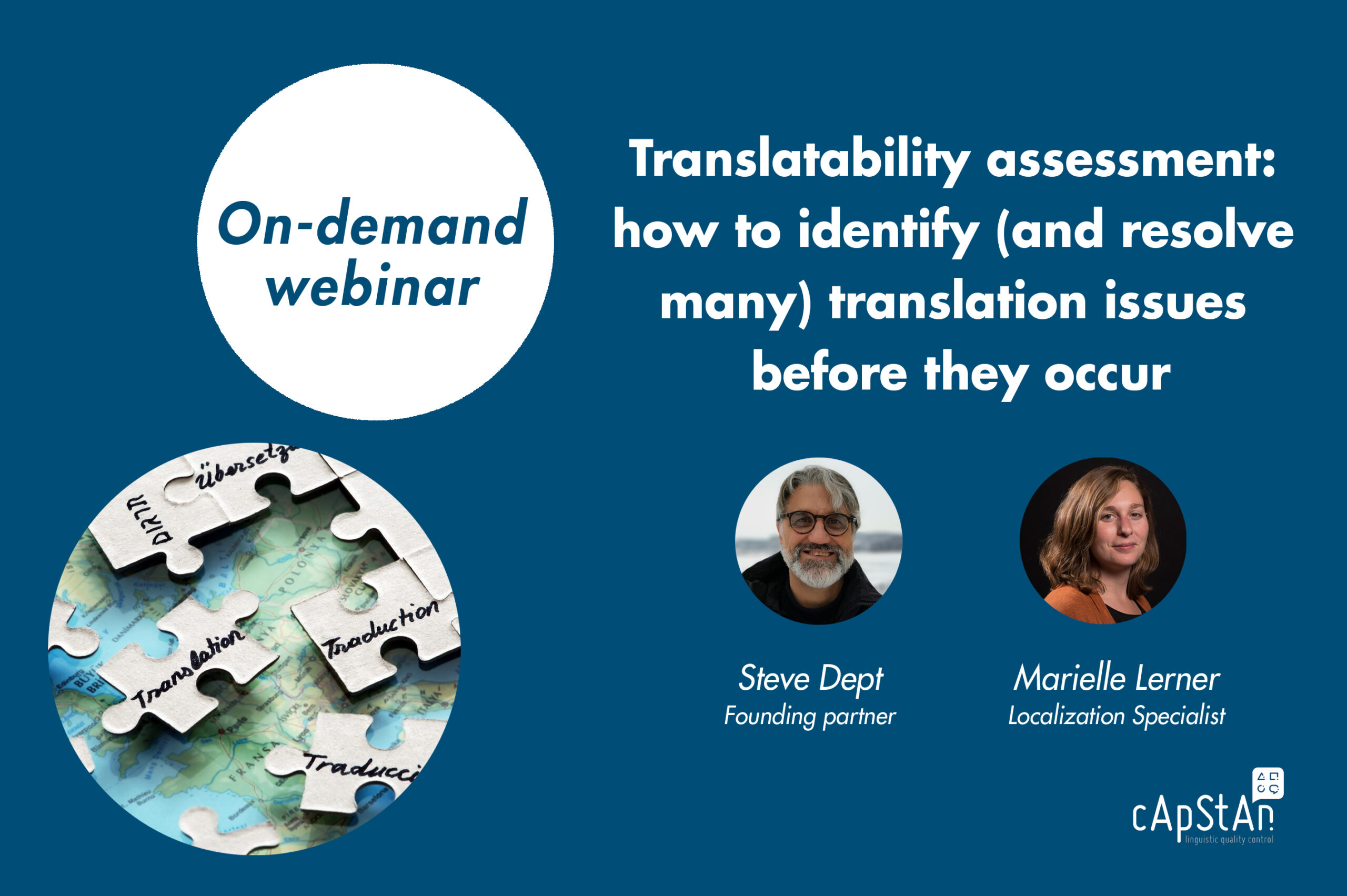 On-Demand Webinar
20.04.2022
Speakers: Steve Dept, Founding Partner and Marielle Lerner, Localization Specialist
Watch the On-demand webinar by cApStAn Founder Steve Dept and Localization Specialist Marielle Lerner where they explain the advantages of Translatability Assessment and demonstrate the process.
Click Here for the Recording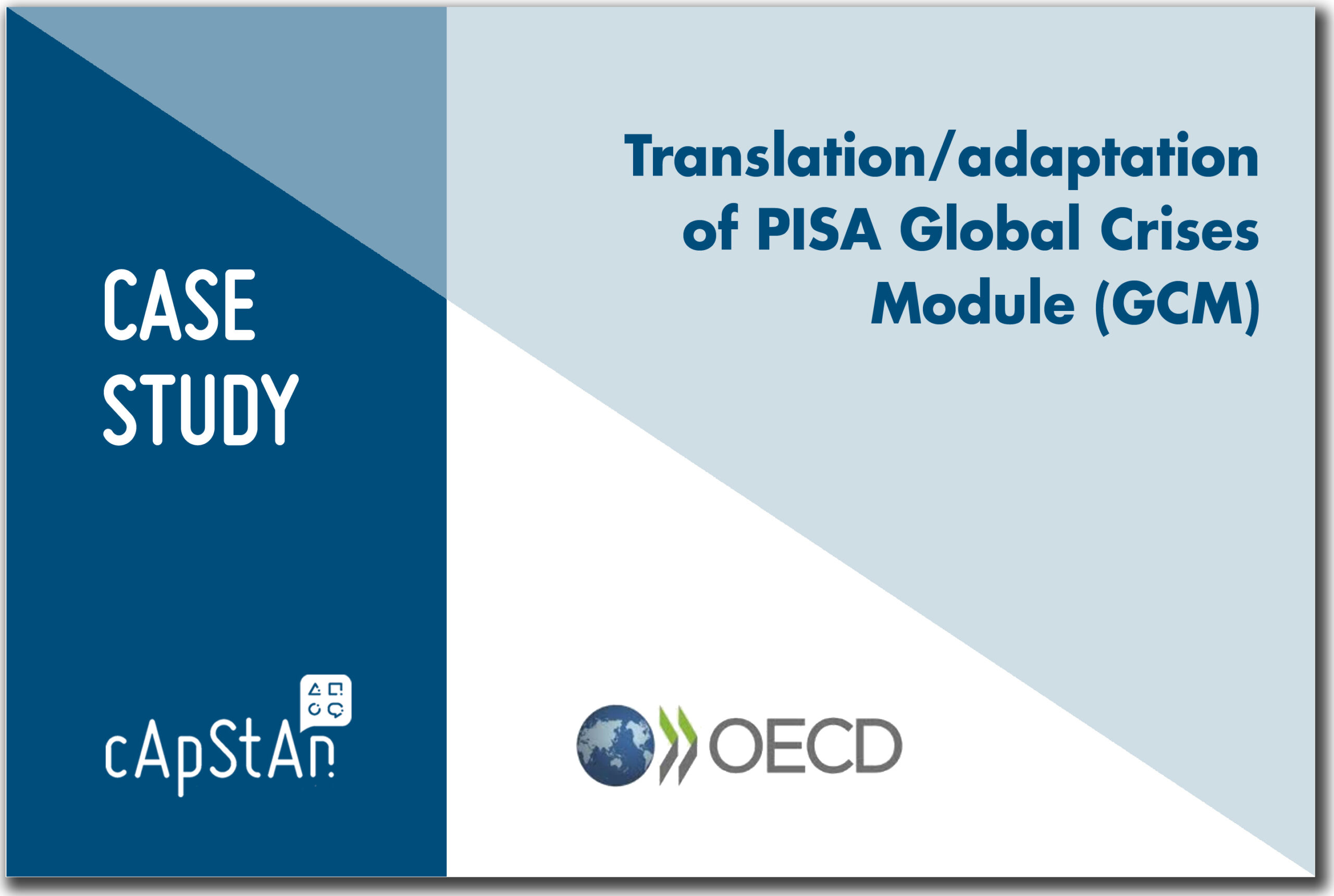 Case Study
The OECD's Programme for International student Assessment (PISA) developed PISA Global Crises Module (GCM) to collect information on how education systems around the world have responded to the COVID-19 pandemic and how students' learning experiences and school preparedness have changed.
Read Case Study Here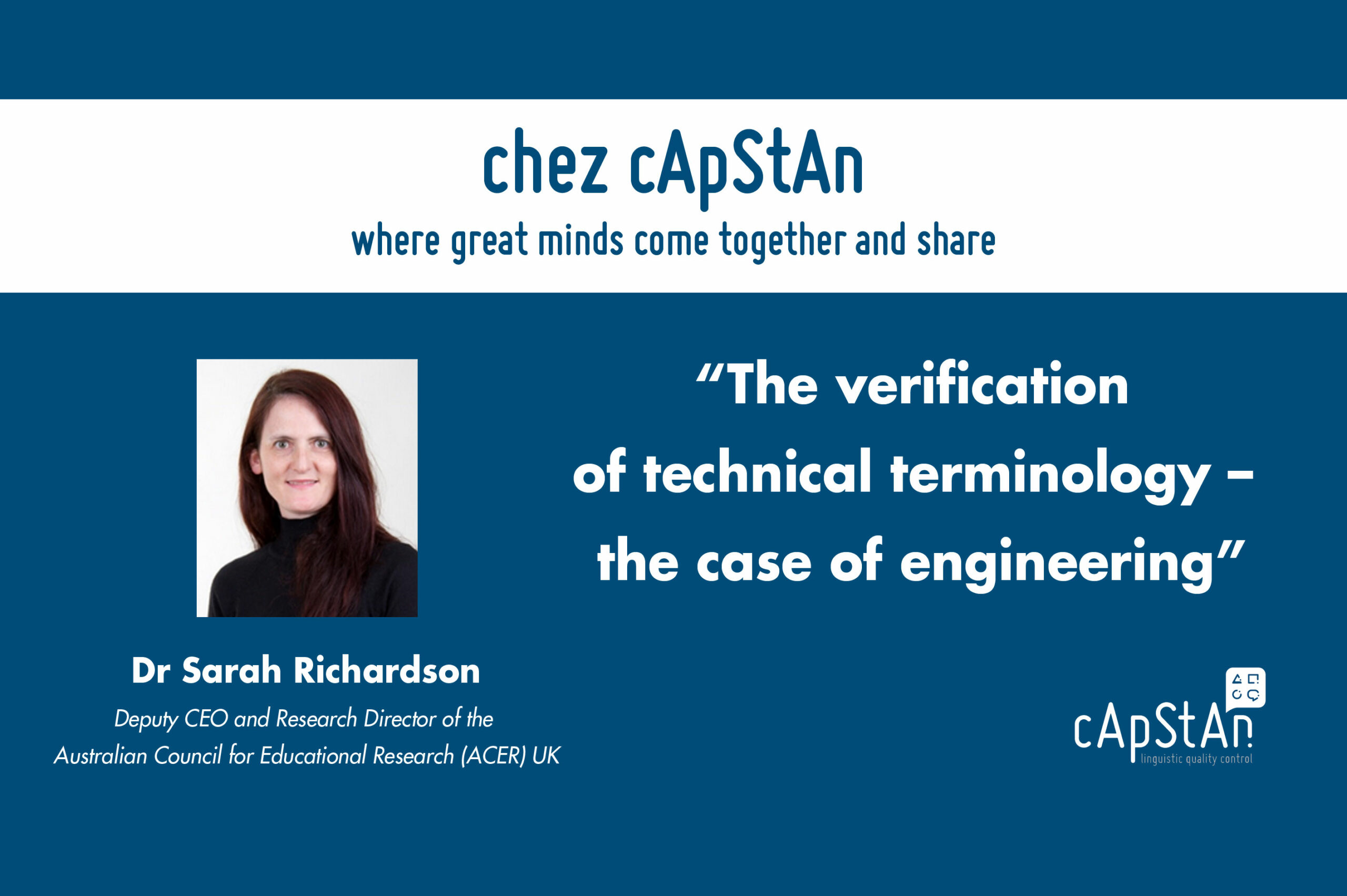 Guest Post
Dr Sarah Richardson
Between 2010 and 2012 the OECD implemented the Assessment of Higher Education Learning Outcomes (AHELO) Feasibility Study. The focus was on measuring the learning outcomes of final year bachelor-degree (or equivalent students) in the domains of civil engineering, economics and generic skills.
Read Post Here
Testimonials
Client Testimonial
Life was so much more complicated before cApStAn
Project Administrator
OECD
Client Testimonial
The quality of the work performed by cApStAn in each PISA survey has been exemplary.
Research Fellow
Australian Council for Educational Research (ACER)
Client Testimonial
Their (cApStAn's) linguistic services meet the highest professional standards and our staff confirms that cApStAn's communication policy is highly efficient.
OECD indicators/analytics division
Client Testimonial
Your work is so immaculate: error-free, explanatory and tactful
Research Fellow
Australian Council for Educational Research (ACER)
Linguist Testimonial
I've been working with cApStAn since 2012. It was an amazing moment when they found me for one of their projects because I was still a novice, so to speak, back then in the translation industry. But they've been patiently working with me to the point that the working relationship has become so precious. I say, through my experience, that cApStAn see and trust in your potential, build you up in your skills and help accomplish something truly satisfactory. They never lose friendly spirit to communicate with you and their promptness to support you is amazing. And as a matter of course, they are indeed professional in every aspect of their jobs. I certainly recommend cApStAn to anyone who wants to find enjoyment in their work.
Naoyuki
Expert linguist for Japanese
Linguist Testimonial
I've been working for cApStAn since 2006 and it's been always a great pleasure – perfect coaching and communication, quick and clear responses to the point, very friendly and positive approach of all members of the team, timely payments –  simply best working experience in my life.
Mária
Expert linguist for Slovak
Linguist Testimonial
Working with cApStAn is one of the best working experiences in my life. Friendly, familiar atmosphere, the able staff ready to help in any moment… all these elements create an incentive working environment.  It's a great pleasure for me to cooperate with such highly professional company and I'm always looking forward to work on new tasks.
Marina
Expert linguist for Croatian
Linguist Testimonial
From the very first moment I met the cApStAn team back in 2008, I thought it would be great to collaborate with them…and it was such indeed! The professionalism with which they manage every single (international) project is their landmark; the passion and enthusiasm they put into their work are always perceived. They are always there if any queries should arise during the job and they are open to comments and suggestions. All these characteristics put together have made me love working for them. Absolutely…yes!
María
Expert linguist for Mexican Spanish
Linguist Testimonial
I have been in translation industry for more than 16 years and have been in relation with cApStAn and its sister company, BranTra, for nearly a decade now. I cannot think of another agency on a par with them in terms of fair remuneration, project support and responsiveness, interesting projects, clear instructions and quality control standards (after all, linguistic quality control is what cApStAn is internationally renowned for). The Project Managers are always there to support and treat you in a professional and friendly manner which stems from the company's excellent, humane culture and team spirit.
Sasan
Expert linguist for Farsi
Linguist Testimonial
Love working with cApStAn, everyone is truly friendly and helpful. As a freelancer and a mommy at the same time, I find it easy to adjust to the proposed deadlines.
Ria
Expert linguist for Indonesian
Linguist Testimonial
Working with cApStAn since 2013 as a freelance linguist, I am extremely happy with all aspects of our collaboration and relationship. Interesting projects, varied tasks, clear job instructions, well organised work procedures, knowledgeable and helpful project managers, are a few of the reasons why I enjoy so much working with cApStAn. And besides being a model of professionalism and achieving high quality work, they build human and friendly relationships with their freelance partners, which is also much appreciated.
Christophe
Expert linguist for French
Linguist Testimonial
I've been working with cApStAn for about 3-4 years. The jobs are very interesting and I see them as having the greatest impact/value for the society among the projects I participate in as a linguist. But what I like most is the supportive, fair, responsive, friendly and professional attitude of the company. I prefer working based on such principles, and cApStAn always championed in this in my eyes since we have started our cooperation.
András
Expert linguist for Hungarian
The Latest from cApStAn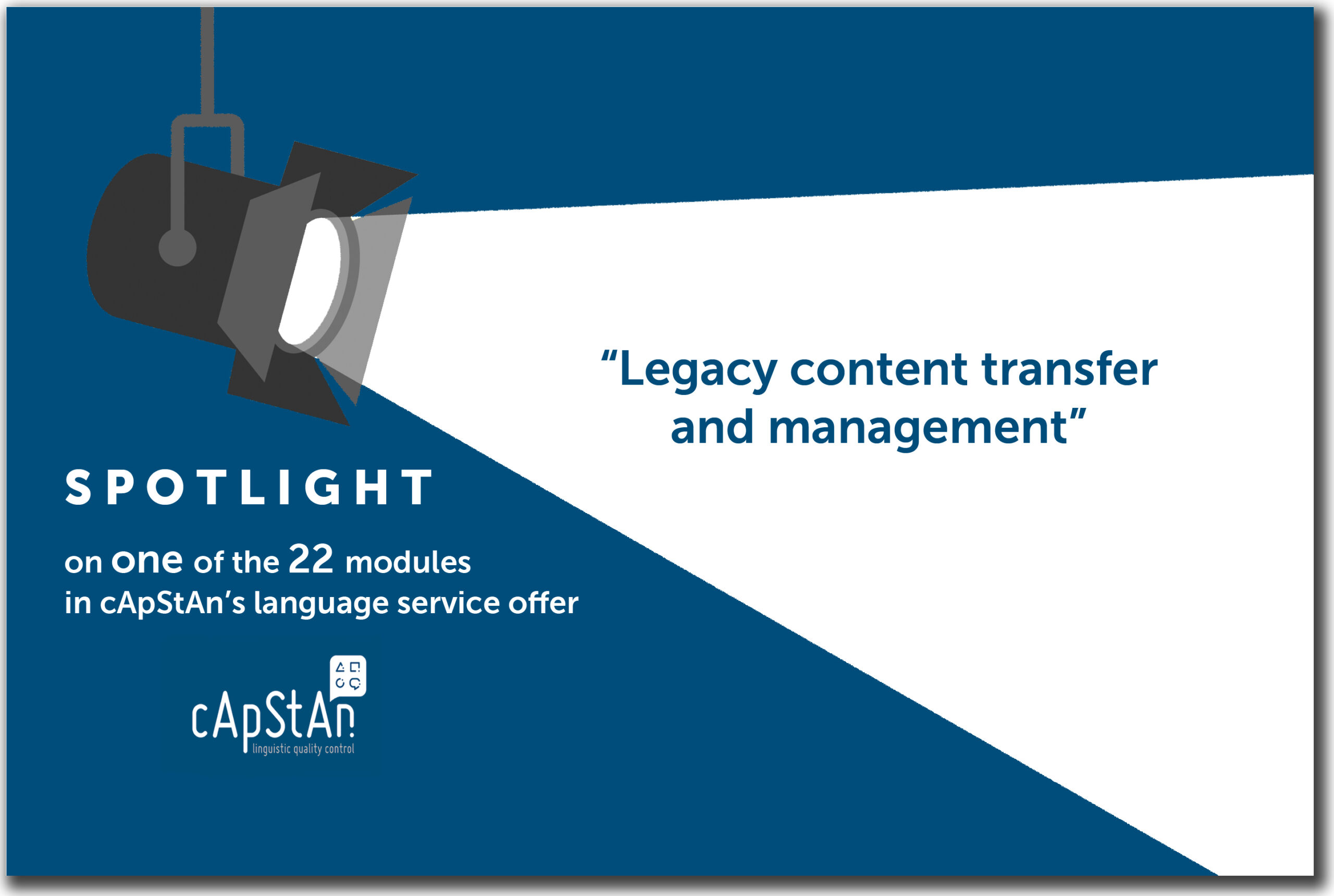 Preparation of Translation Process: Legacy Content Transfer & Management
20/05/2021
Depending on the client's requirements, on time and resources available, and on the purpose and life cycle of the document, cApStAn will combine different modules to assemble a coherent project with the most suitable workflow. You will ultimately decide on which modules to keep.
Learn More