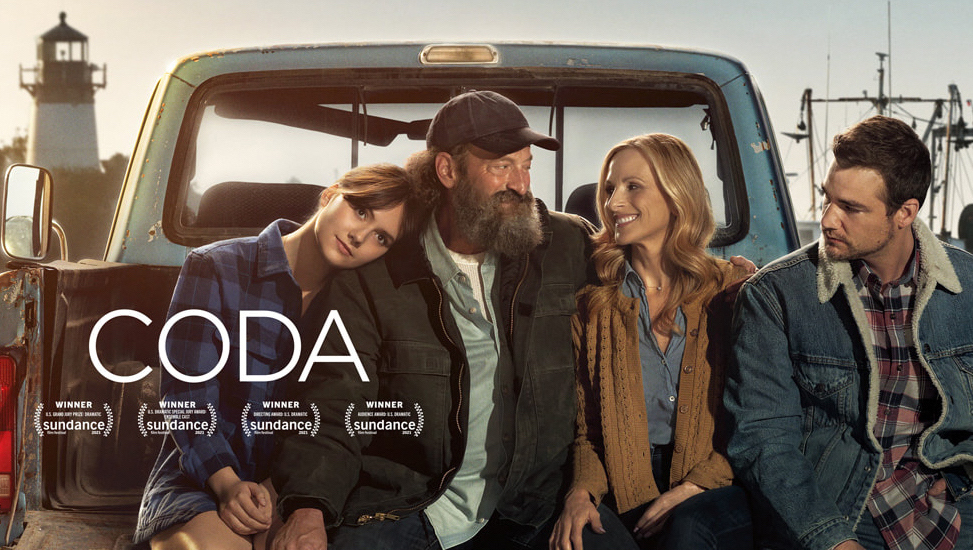 04.05.2022
The surge of sign languages on screen is a sign of better representation for the Deaf community. Or is it?
by Pisana Ferrari – Branding and Social Media Manager
"CODA", the winner of the 2022 Oscar for "Best picture", is one of a number of recent films about the Deaf community (1) (2). It tells the story of a hearing daughter in a Deaf family ("CODA" stands for " Child Of Deaf Adults"), who helps with her family's business while pursuing her own aspiration of becoming a singer. The film cast many Deaf actors, one of whom, American actor and theatre, film and TV director Troy Kotsur, won the Oscar for "Best Actor in a Supporting Role". Kotsur became the second Deaf actor to win an Oscar, the first was his "CODA" co-star Marlee Matlin who won in 1986 for "Children of a Lesser God." Since its Oscar win, "CODA" has been the object of heated debate between those who see the surge of sign languages on screen as a positive development, in terms of awareness, representation and potential new opportunities, and others who lament that Deaf people continue to be portrayed as weak and helpless and as a burden for their families. Some critics even suggest that including Deaf people in films is simply about ticking the diversity and inclusion box.
What does the Deaf community think of "CODA"?
US Deaf author, activist and advocate Jenna Fischtrom Beacom says she was delighted that the three main Deaf roles in the film are played by Deaf actors, that their performances are exceptional, and that it's wonderful to have more representation, and for the film to get so much attention. "CODA will probably be successful", she says. "Hearing people will like it. Success opens doors for Deaf people. That's good. But there are also many deeply harmful messages in this movie. Does the likely success cancel that out?" The nice moments are not enough to obscure them, she adds. She refers in particular to the following aspects:
Deafness is portrayed as a burden, both to the Rossi family and to their daughter Ruby, which is both offensive and harmful, Fischtrom Beacom says;
On account of this, Ruby is often tired, falls asleep in class, arrives late;
Ruby is asked to interpret for her parents at work, in town hall meetings, in the courthouse and at the doctor's office. Fischtrom Beacom comments that the lack of ASL interpreters at the doctor or in the courthouse, for example, is illegal (in the US, interpreters are provided by the State by law) and also sends a negative message to hearing people, both in terms of their communication responsibilities ("so it's fine if I just make their kid interpret instead of getting a pro") and in terms of their competence as Deaf people; (3)
Repeatedly, Deaf competence is minimized for plot purposes. It's tempting to say it's just fiction, it's just one family, what does it matter, says Fischtrom Beacom. But, she adds, any representation at all matters, because hearing people are so much more likely to encounter fictional Deaf people than real ones;
The family's dependence on their hearing daughter is not only unrealistic, but it's impossible. Even within the movie they are shown as being able to function without her when forced to do so (e.g. when Ruby leaves home to go to college);
The Rossis' resistance to Ruby's singing is portrayed as a natural consequence of their deafness. It is assumed that being Deaf means that you can't enjoy music, or understand anyone else's enjoyment.
What can be done in future to improve representation?
Lisa DeWindt Sommer, who is Deaf and works at the US National Technical Institute For The Deaf, (NTID), has two hearing children. Kaitlin, her daughter, says "CODA" showcased the challenges of navigating the hearing world and the Deaf world, but this movie is just a start for Deaf representation. She says she was upset that the actress who portrayed Ruby wasn't a CODA herself, "so I feel like if you had an actual CODA there it would have been easier to express the actual experience that we go through, and that's why I say this movie is just a start."
Fischtrom Beacom also notes that the main character Ruby used sign language like a "beginner" and that some of the signing, even among the Deaf characters, felt off. "It was very clear that the dialogue was written by a hearing person". She points to the fact that American Sign Language (ASL) and English are very different languages, with not only distinct syntax, grammar, etc., but also their own idioms. "There is overlap, and anything can be interpreted from one language to another but many phrases just don't 'work' well when they're supposed to be coming from culturally Deaf-ASL users", she adds.
While actors are a huge part of improving Deaf representation, Fischtrom Beacom says, they are far from the only part. "The writing in some ways is the most important thing; the decisions about what story is told and how to tell it." She says she hopes CODA may pave the way for the many talented Deaf writers, directors, editors, cinematographers, and more to have their chance to tell stories that are even more authentic. US author and journalist Alison Stine, who is partially Deaf, echoes these concerns and wonders why it is hearing people writing and directing d/Deaf people's stories? "We write. We direct. We have stories and work experience. We're here. Hire us." Yes.
Addressing DEI-BR issues at cApStAn
At cApStAn we assist organizations whose tests and surveys are to be administered in multinational, multiregional and multicultural contexts to evaluate potential Diversity, Equity and Inclusion (DEI) issues such as: sensitive content, relevance for all segments of the target audience, portability of constructs, translatability, ambiguity, gender mainstreaming, racialized stereotypes, and potential cultural bias.
Learn more about our DEI-BR consultancy at this link
Footnotes
We acknowledge that different Deaf and Hard of Hearing communities in different parts of the world may use different terms to refer to themselves and may mean different things by these terms. In this article we have used the term "Deaf" in upper case throughout for brevity, after consulting resources in the US (NAD) and the UK (BDA).
Recent films include "Sound of Metal", "Eternals", "A Quiet Place 2", "Hawkeye", and "Only Murders In The Building", which all feature Deaf actors using American Sign Language (ASL). There is signing also in some Sci-fi movies, e.g. "Dune", "Godzilla vs Kong" and "The Book of Boba Fett". We would add to this list the film "Drive my car", by Japanese director Ryusuke Hamaguch, which won the 2022 "Best foreign film" Oscar. The plot of "Drive my Car" revolves around a theatre director's multilingual production of Russian author Anton Chekhov's "Uncle Vanya". The play is performed in Japanese, Mandarin, Korean and Korean sign language.
We touched upon this topic in an article for our blog about migrant children, who are often called to translate for their parents. Opinions around the psychological impact of such work are divided. Some speak of the "enormity of the burden" placed on children and the fact that they may be exposed to matters or situations not appropriate for their age and maturity level. In health care settings, mistakes can even be serious and life-threatening. Research seems biased towards considering the negative features of child language brokering, but there is some evidence that it can help develop greater cognitive, social and emotional skills.
Sources
"From CODA to Hawkeye, the surge of sign languages on screen is a sign of better things to come for the Deaf community", Naja Later, The Conversation, April 12, 2022
"Representation or Stereotype? Deaf Viewers Are Torn Over 'CODA", Amanda Morris, The NY Times, March 30, 2022
"Despite its Oscar win, CODA is still a film that depicts deafness as a burden", The Conversation, March 30, 2022
"Deaf community responds to 'CODA': What the movie gets right and misses", Meghan Holohan, Today, March 28, 2022
"A CODA and her mother on 'CODA's portrayal of deaf culture", Stephanie Duprey, News10NBC, March 28, 2022
"The Tension at the Heart of CODA", John Hendrickson, The Atlantic, March 25, 2022
"Coda and the films finally treating deaf people with respect", Jack King, BBC Culture, August 10, 2021
"CODA Review", Jenna Fischtrom Beacom blog, August 13, 2021
See also our article on
The Academy Awards have long been criticized for lack of representation but the 2022 edition was a celebration of diversity
Photo credit
"CODA" official film poster