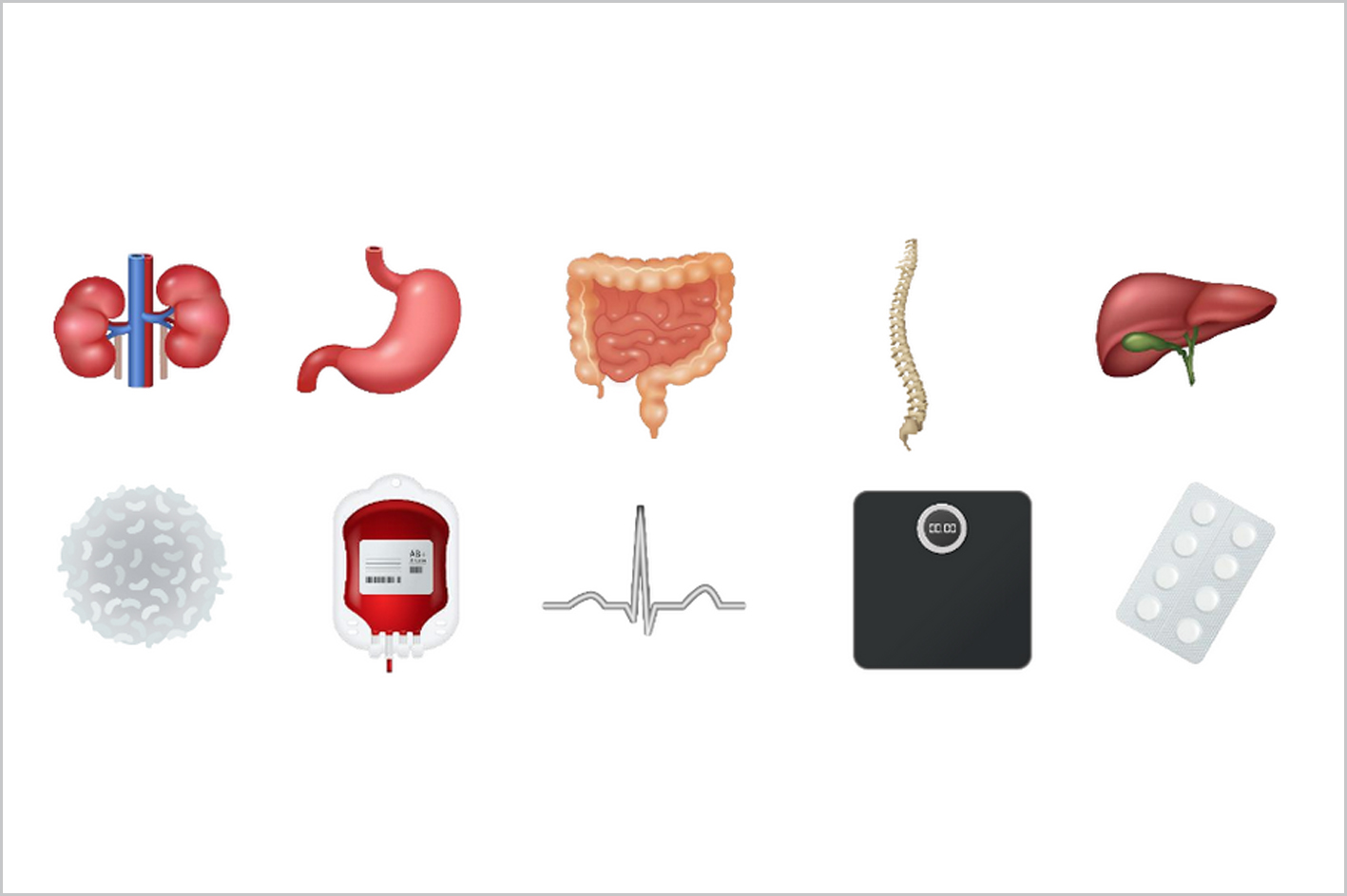 Physicians, patient advocates and volunteers launch an online campaign for more "medical" emoji to approved by UNICODE
by Pisana Ferrari – cApStAn Ambassador to the Global Village
A coalition of physicians, scientific societies, patient advocates and volunteers in the US has recently launched an online campaign for more "medical" emoji to be approved by UNICODE. Its members make the case that a more comprehensive set of medical emoji could improve patient-doctor communication and have significant benefits for patients. How? The range of uses for emoji in medicine is wide, they say, starting with patients who speak a different language and/or have limited health literacy. The use of emoji could make it easier for these patients to understand their condition, describe symptoms and follow treatment instructions. Emoji could also be useful in treating children with still-developing language skills and patients with disabilities that affect their capacity to communicate. For diseases that are stigmatized the use of emoji, which are "non-judgmental" symbols, could help to normalize conversations, and for preventable diseases, they could contribute to raising awareness of the need for screening. Emoji are a "universal visual language", say the members of the Medical Emoji coalition and "this is an opportunity to promote tolerance, inclusion and education about medical organs in a modern, accessible, and international way". The introduction of new medical emoji has been endorsed by a number of scientific societies (e.g. the US, Canadian and International societies for Nephrology and the American Gastroenterological Association) as well as patient advocacy groups (e.g. AAKP, the American Association of Kidney Patients). The AAKP make the case that a kidney emoji could drive greater patient engagement and interaction both within the US and across the globe.
New candidates for UNICODE approval
A number of medical emoji have been approved in past years and are available on most user keyboards. These include emoji for the brain, heart and lungs, for syringes, X-rays, pills, thermometers, stethoscopes and adhesive bandages. A broader variety of medical emoji are necessary for true representation, say the campiagners, who have put forward a list of ten candidates for UNICODE approval: four additional human organ emoji (stomach, liver, kidney, intestine) and emoji for the spine, white blood cells, blood bags, pill packs, weight scales, the EKG.
Rationale behind the proposed emoji
The MedicalEmoji.org website explains that the new emoji can help raise awareness of global health issues affecting vital organs such as as the kidneys, colon and liver, and represent an opportunity to discuss preventive medicine. The weight scale and pill pack can be used respectively in conversations around obesity and substance abuse. Due to the growing need for blood donation, the blood bag emoji can help hematologists and medical professionals disseminate understanding of blood and its components to the general public.
How likely is the campaign to succeed?
Jennifer 8. Lee is one of the leaders of the campaign, is Vice-Chair of the UNICODE Emoji Subcommittee, and co-founder of Emojination, an organization that advocates for more inclusive and representative emoji. She recognizes that whereas the brain, heart, and lung emoji were all approved the other human organs are" less recognizable" and don't have as much "demand". If medical organizations established a set of important potential emoji and pushed for them to be added, she says, then they might have more luck.
How many is too many emoji?
Improving representation and inclusivity in emoji design is a noble endeavour, of course, and a lot of progress has been made in this respect in past years (see our articles on this topic at the links below), but where do you draw the line? There are already over 3,600 UNICODE-approved emoji and about 70-100 new ones are added each year. And, in any case, no matter how many more are added, it will never be possible to represent "the entire gamut of human experience", as academic and acclaimed author Ian Bogost has noted.
Representation at the price of "universality"?
The increased selection of emoji affects their flexibility to stand for something bigger and risks eroding their "universality", says Bogost. Shigetaka Kurita, the Japanese designer who created the first set of emoji in 1999, is quoted in an interview for the CNN as saying that he envisioned emoji as ideograms to represent broad ideas. "Contemporary emoji aren't really emoji," he says. "Instead, the majority of them are simply pictures, I think. Because it makes inputting them difficult, there might also now be too many. Doesn't there seem to be an increase in the kind of emoji that someone might use only once?"
Sources
Emoji For the Medical Community https://medicalemoji.org/
Medical emoji petition, Rare Revolution Magazine on LinkedIn, March 12, 2022
"A doctor's quest for more organ emoji", Kait Sanchez, The Verge, September 13, 2021
"Emoji Power. A new way for patients, doctors to communicate", Randy Young, MGH News and Public Affairs, September 9, 2021
"Shigetaka Kurita: The man who invented emoji", Jacopo Prisco, CNN, May 23, 2018
See also our blog articles on this topic
Emoji have come a long way in terms of improving gender and cultural inclusivity but users are asking for increased representation
The new Head of the UNICODE Emoji Subcommittee is advocating for more diverse and inclusive emoji
Addressing cross-cultural issues in emoji "translation"
How emoji have become an essential way for diverse communities to have visibility online
"Emoji are Great and/or They will Destroy the World"
Photo credit: MedicalEmoji.org