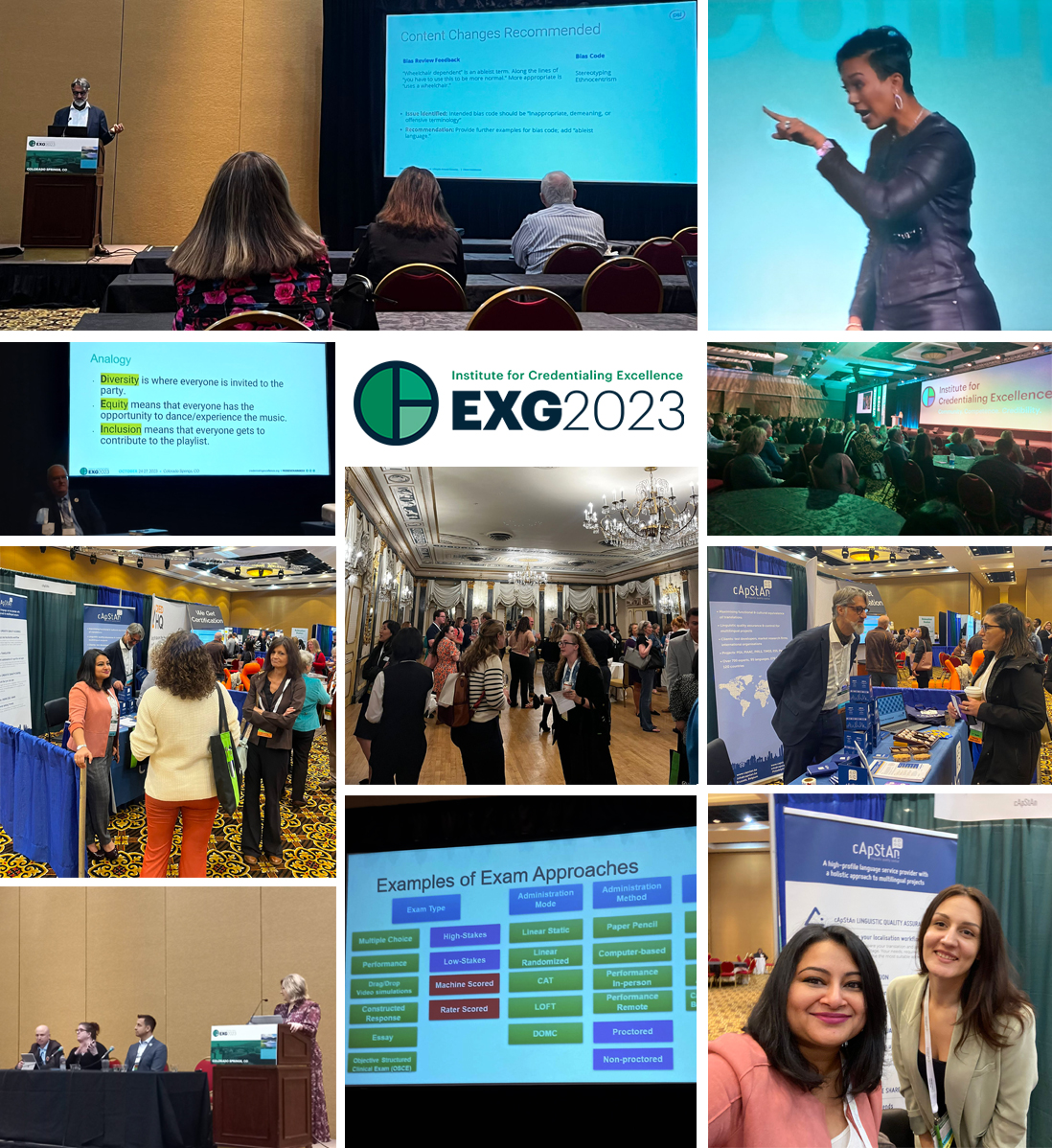 01.11.2023
"Navigating the Frontiers of DEI and AI: Insights from cApStAn's 2023 I.C.E. Exchange Experience"
One of cApStAn's teams is just back from Colorado Springs, USA, where they attended the 2023 Institute for Credentialing Excellence (I.C.E.) Exchange. Devasmita Ghosh (Business Development and Marketing Lead), Nela Manojlovic (Project Manager) and Founding Partner Steve Dept spent a full week there.
One needs to begin with the venue. The Broadmoor is a mythical resort that welcomed a host of US presidents, sports legends, actors and foreign celebrities. It is built around a lake, with the Rocky Mountains as backdrop. The Broadmoor has several restaurants, and many serve produce from Broadmoor's own farms. The facilities are top-of-the-shelf, and everyone was in the best spirits from the first day.
On Wednesday the 25th of October Steve co-presented a case study on diversity, equity, inclusion and bias reduction (DEI-BR), on which cApStAn had worked with Ascend Learning, in a session organised by PSI Services titled: "How to Articulate the Assessment Lifecycle Around Diversity, Equity and Inclusion (DEI)". A huge honour to share the floor with Isabelle Gonthier, PhD, ICE-CCP and Pamela Ing Stemmer, PhD, ICE-CCP from PSI Services, and Jesse Lobbs, ICE-CCP, from Ascend Learning, Steve says.
At this edition of the I.C.E. Exchange, the interactive sessions on DEI markedly moved away from mere compliance with requirements and from the "check-the-box" approach. Inclusion is presented as fostering a sense of "belonging" across the board rather than selective corrective action. One had the refreshing impression that heterosexual whites are no longer regarded as the norm, but as just one identity among other identities. This diversity was reflected in both the speakers and the audience.
Steve found that there was a telling variance in the quality of the content related to AI, prompt engineering, Retrieval Augmented Generation (RAG), use cases with machine learning and large language models: part of the audience is clueless, and some presenters prepared presentations for that segment of the audience. Others assumed more familiarity with generative AI than what was at hand, and it made their show and tell sessions particularly interesting for the other segment of the audience. "I learned more than I expected to", says Steve, "and also found that there were more people than I thought who were interested in the knowledge I wanted to share".
The I.C.E. Exchange is a great forum to engage in conversations with the community about the challenges and solutions associated with the language component in credentialing exams, Steve concludes: "We had all the conversations we intended to have, because the venue allowed it and, more importantly, several new conversations were initiated by credentialing organisations and certification bodies who are seriously considering to make their exams available in other languages, starting with Spanish for US-based candidates".
Photo, clockwise from top left
Steve Dept co-presenting at session titled "How to Articulate the Assessment Lifecycle Around Diversity, Equity and Inclusion"; Nicole F. Smith, emotional intelligence coach and certified life coach, during her vibrant opening keynote speech; audience at I.C.E. opening session; Steve Dept at the cApStAn booth; cApStAn team members Devasmita Ghosh and Nela Manojlovic; panel discussion on "Assessments 101: It's more than delivering a test!", with Bodie Wise from Internet Testing Systems, Johnna Gueorgieva from Dental Assisting National Board, Bill West from Global Skills X-Change, and Rachel Schoenig from Cornerstone Strategies (from left to right); Devasmita Ghosh at the cApStAn booth; slide on DEI shown during panel discussion titled "Diversity of thought: Exploring DEI in your testing program". Centre: Welcome reception.