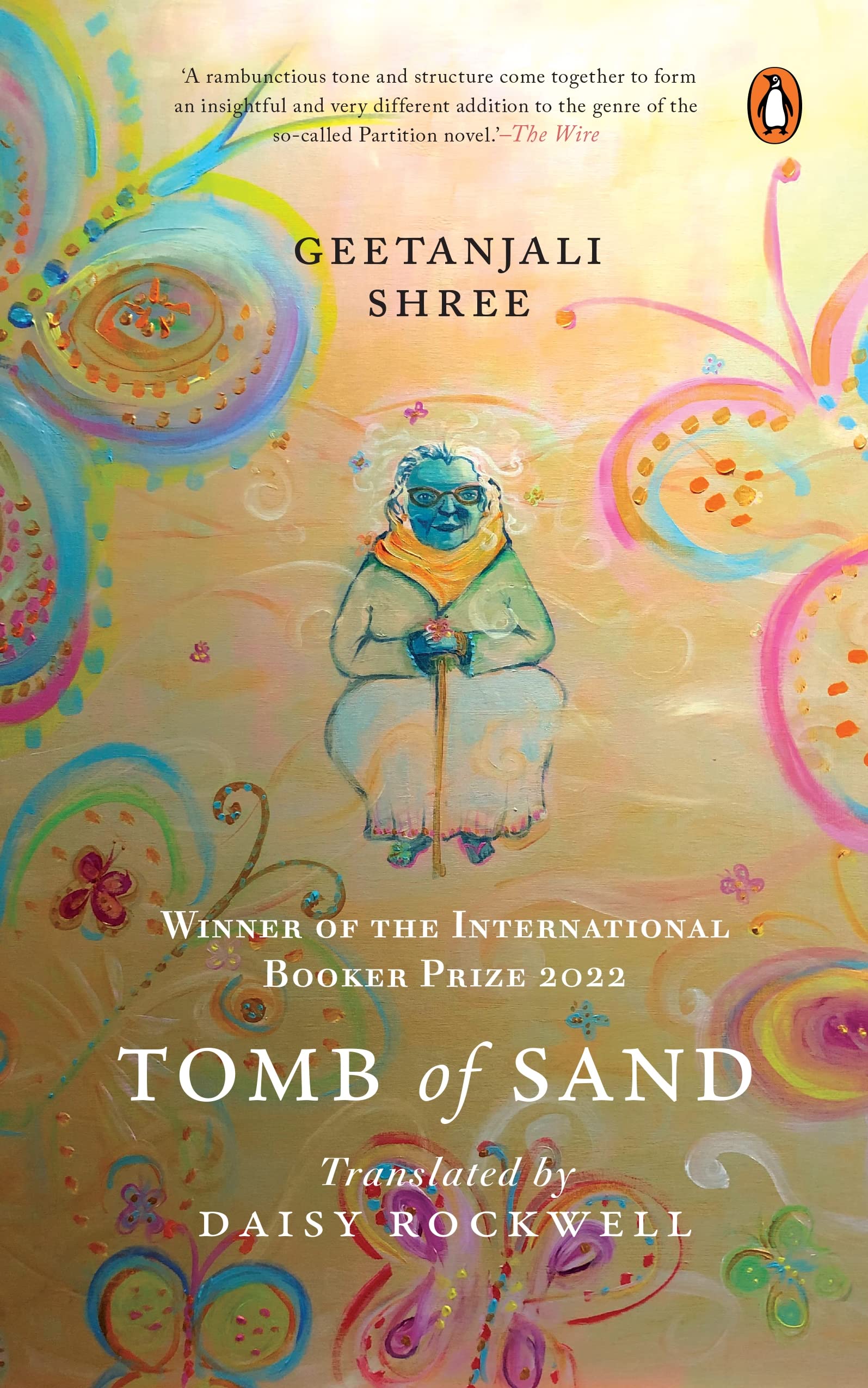 10.06.2022
First ever International Booker Prize for Indian language novel gives boost to Indian literature as a whole
Indian author Geetanjali Shree and translator Daisy Rockwell were recently awarded the 2022 International Booker Prize for the novel Tomb of Sand. This prize is awarded annually to a translated work of fiction published in the U.K. or Ireland. The £50,000 prize money is divided equally between author and translator. Winning the 2022 prize not only marks the award's first Hindi winner, but also the first time a book written in any Indian language has won.
Set in Northern India, Tomb of Sand recounts the adventures of a widowed octagenarian woman who unexpectedly gains a new, and highly unconventional, lease of life. Frank Wynne, chair of the judges for this year's prize, has described Tomb of Sand as "a luminous novel of India and partition, but one whose spellbinding brio and fierce compassion weaves youth and age, male and female, family and nation into a kaleidoscopic whole". Tomb of Sand is Shree's first book to be published in the UK but she has also authored three novels and several short story collections. Rockwell is a US based artist and translator as well as an author in her own right. She has translated a number of works from Hindi and Urdu.
For nearly two decades the "International Booker Prize" has contributed to launching authors writing in languages other than English into the international literary arena (and celebrating the important role of translators, we add) and this win has generated great enthusiasm and much hope for the future of Indian literature as a whole.
Translation prizes boost national literature
Interviewed by The Guardian Wynne has said he hopes Shree's win will spur more translations of books in non-European languages, calling it "a pity" that very few books written in languages from the Indian subcontinent are translated into English. The author of an article in the Smithsonian magazine points out that while India has a booming book market, with nearly 250 books published every day, the majority of books published are English-language, and only 35% in Hindi. The lack of translation endures despite the fact that Hindi is the third-most spoken language in the world, with 606 million people speakers worldwide, adds the author.
In an exclusive interview for India Today Geetanjali Shree says this is "a moment of hope and I am sure there will be greater interest from publishers, translators and readers to go for this literature. And of course, this is very vibrant literature which people will only benefit from knowing". Her translator, Rockwell, is quoted in an article for The Hindu as saying that "the longlisting brought the book many new readers around the world, in English and in Hindi as well. It also created an awareness of Indian literature written in languages other than English, and I sincerely hope that awareness will grow into a desire for more."
The win was much celebrated in India and raised high hopes for the future. "This is a big boost to the literary translations in India and Tomb of Sand showcases the depth and richness of literature in various languages of India," commented the Sahitya Akademi, India's National Academy of Letters. The win is "an unprecedented moment in the history of literature in Indian languages", reads the previously mentioned article in The Hindu. Ashok Maheshwari, managing director of the publishers of the Hindi original, is quoted in the same article as saying that "it is a moment of pride for Hindi literature and indeed all Indian languages."

International prizes can play an important role in boosting national literature as a whole as was the case for Poland in recent years. Polish author Olga Tokarczuk's "International Booker International Prize" win in 2018 marked the author's international breakthrough (Tokarczuk had been a bestselling author in Poland for three decades but was virtually unknown elsewhere), and, as Antonia Lloyd Jones, one of her translators, says, this was not just a triumph for her but for the whole of Polish literature. Tokarczuk then went on to win the Nobel Prize for Literature in 2019 (see also our article on Olga Tokarczuk at this link).
Translation prizes celebrate the key role of translators
In recent years there has been an increasing recognition of the important role of translators, thanks also to major international prizes where authors and translators share the award money, such as the International Booker Prize, which specifically writes on its website that "the prize celebrates the vital work of translators" and the UK Society of Authors TA First Translation Prize, founded in 2017 by author and translator Daniel Hahn. Awareness campaigns such as #namethetranslator, launched by the UK Society of Authors, have been quite successful on social media. More recently, on September 30, 2021, UN International Translation Day, the UK Society of Authors launched a call for full book-cover credits for translators. The debate about how and where to credit a translator's work has been long-standing, see also our article on this topic at this link.
Important contribution of independent publishers
Tomb of Sand was published by a small independent publisher called "Tilted Axis Press", established by Deborah Smith, herself a winner of the International Booker prize, together with South Korean author Han Kang, for her translation of "The Vegetarian". Smith used her prize money to found the press. Independent publishers Fitzcarraldo Editions, Charco Press and Honford Star also had books on this year's shortlist. Wynne has praised small independent publishers for the enormous work they do in bringing translated work to people. While the Big Five publishers do, of course, produce translated work, he is reported as saying in an article for Publishing Perspectives, that the going concept about translated literature is that it's "difficult", as in difficult to produce and difficult to sell. But they are no more "difficult" than anything else, he added. "It's not some kind of cod liver oil that's supposed to be good for you".
Sources
"International Booker Prize winner Geetanjali Shree's message to aspiring writers: Just keep at it", India Today, June 3, 2022
"For the First Time, a Hindi Author Has Won the International Booker Prize", Jane Recker, The Smithsonian Magazine, May 31, 2022

"Indian Novel 'Tomb of Sand' Wins International Booker Prize", Associated Press, May 27, 2022,
"Geetanjali Shree's 'Tomb of Sand' first Hindi novel to win International Booker Prize", Ziya Us Salam, The Hindu, May 27, 2022
"In Booker's spotlight: The embrace of bhasha literature and translation", Times of India, May 27, 2022
"International Booker Prize: Who is Geetanjali Shree and what is her book 'Tomb of Sand' all about?", Lifestyle Desk, Indian Express, May 27, 2022
"In London, Geetanjali Shree and Daisy Rockwell Win the 2022 International Booker Prize", Porter Anderson, Publishing Perspectives, May 26, 2022
"First novel translated from Hindi wins International Booker prize", Sarah Shaffi, The Guardian, May 26, 2022
Photo credit Amazon