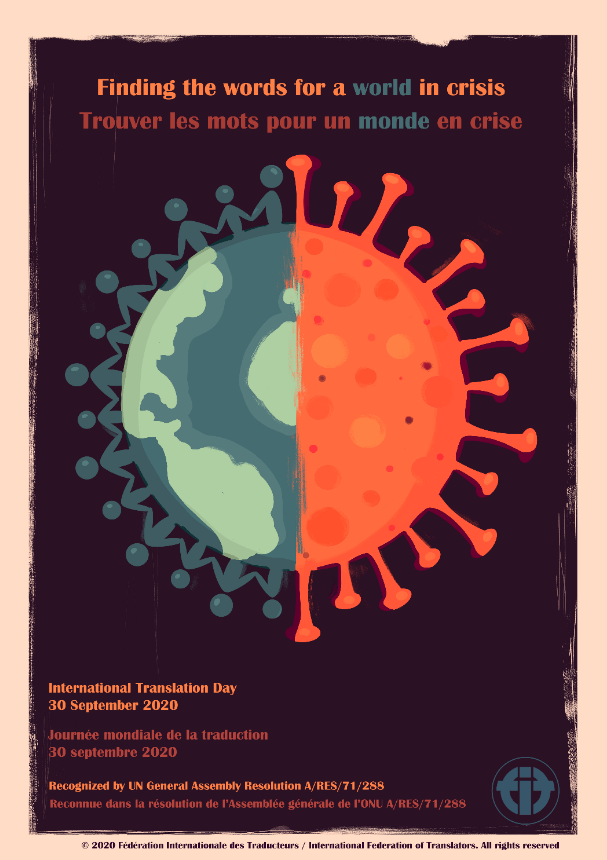 29.09.2020
September 30 marks International Translation Day, a time to reflect on changes in the industry in 2020
by Pisana Ferrari – cApStAn Ambassador to the Global Village
"Finding the words for a world in crisis" was the theme for the 2020 International Translation Day poster design contest set up by FIT, the International Federation of Translators. The beautiful winning design, by Russian artist and translator Liza Gunenko, captures the importance of unity and solidarity to counterbalance the current crisis. It also reflects the exceptional and challenging times we are living in and the global dimension of the problem. COVID-19 has changed the world drastically, forcing a score of industries to resume operations online. The language industry has not been left untouched, of course. The different players in the language industry have been affected in different ways. There have been challenges and setbacks for many but also new opportunities for a few: technological capacity has been one of the key elements in their ability to adapt to the new normal.
On how COVID-19 may serve to view the translation profession under a new light
While health workers are the most salient heroes of this crisis, the year 2020 will (hopefully) be remembered for the key role that translation and translators played in providing vital and potentially life-saving COVID-19 information to people around the world. This has been essential, not only to protect individuals but also to prevent the spread of the virus in the community at large. In the early stages of the pandemic governments were not systematically sharing information in languages other than the official one of the country and, regional/minority language communities risked losing out on transation rather than getting "lost in translation". Thanks to calls from NGOs, international organisations, community advocates and civil society activists, different organisations have pitched in to support national government efforts and huge efforts have been made in this direction (1).
However, reads a recent article in Wired, COVID-19 remains history's biggest translation challenge ever: there are thousands of languages spoken by people who are just as vulnerable to this crisis but still do not have access to information. About half of the world's population, says the author, can't expect to Google their symptoms, nor even necessarily get a pamphlet from their doctor explaining their diagnosis, because it's not available in a language they can understand. Google Translate itself only covers about 100 languages, what about the others? As it seems that COVID-19 is here to stay for some time yet, at least until a vaccine is found, filling the health-language gap will remain a challenge for years to come.
Face-to-face translation of medical information is also major issue, even in the best of times, and gaps widen of course in times of crisis. In hospital settings, for example, difficulties in finding interpreters can lead to COVID-19 patients who do not speak the mainstream language not getting proper attention and care. Mistakes can be made during triage, as underlying conditions may get overlooked, and patients well enough to go home may misunderstand their discharge instructions, causing them to not quarantine properly. This, in turn, represents a threat for the population at large, warms the US non-profit ProPublica (2).
The pandemic has been a mixed bag of wins and losses for the language industry
So says linguist and localization expert Esther Bond, writing for Slator. Yes, and this is closely related to the fact that the language industry is highly fragmented, not just in terms of number of companies but also size, types of businesses, pipelines and sub markets, which can range from translation and interpretation all the way through to film and game localization. Translators themselves are a very heterogeneous group, with a broad array of skills, abilities and competencies: different types of translators, reviewers, post-editors, localization experts, etc. The different players have been affected in different ways.
According to a survey by CSA research conducted in August 2020 on the top 100 largest LSPs (the most recent, at least to our knowledge) 55% of respondents said their business had decreased, 20% said it had increased, and 17% reported no changes. The areas in which demand had increased were healthcare (+64%), life sciences, medical, and pharmaceuticals (+59%), IT services (+40%), government (+38%), broadcasting, cable, news, sports, entertainment (+35%). Decreases concerned the travel and leisure sectors (-88%), events (-87%), airlines (-73%), automotive (-67%) and transportation (-64%). While just a few percent said they were not at all prepared to go virtual, 28% said they were very well prepared to rely on digital marketing; 18% felt the same about digital selling; and 39% said they were ready for online account management.
Interestingly the percentage of LSPs that reported decreases was lower than in the previous CSA survey in May (66%), and the number reporting increases was up compared to May (6%). This trend may continue, and is something to be followed. The CSA survey is, however, limited in its scope: we found it more difficult to find recent and authoritative data on how the pandemic has affected medium-sized or small companies, and individual translators.
Who is thriving during the pandemic?
With millions of people staying at home on account of the lockdown and working or studying remotely, there has been a huge boom in demand for home entertainment and this is one industry which has thrived. At one point during the lockdown Netflix was struggling to keep up with the multilingual subtitling of their films and series and publicly apologized, saying that the well-being of translators came first and asking for the public's understanding. According to a recent survey the increase in number of people staying at home resulted in a net addition of 10 million paid subscribers in Netflix's second quarter alone. In fact, in the first six months of this year, Netflix added 26 million new customers, compared to just 12 million in the first half of 2019. The company now has 193 million global streaming paid customers.
The CSA survey mentioned above reports very large increases in the demand for information in health, the life sciences, medical and pharmaceuticals sector. This is not just about COVID information for the public (PSAs), which we looked at in the first paragraph. Translation is key to hundreds of clinical trials, many of which are multilingual. Informed consent forms and CROs questionnaires need to be administered in a language patients understand (see also our article at this link). There have also been hundreds of polls across the world about COVID-19 and how it relates to different aspects of everyday life, many of which multilingual. An archive set up by SEAN, an expert network convened by the US National Academies of Sciences, Engineering and Medicine, contains about 550 studies since February, from the US and 35 other countries, with nearly 6.000 survey questions.
Who is lagging behind in the pandemic?
With F2F meetings canceled or shifted online the interpreter profession has been particularly hard hit. In Europe, with the European Parliament, Commission and Council either operating remotely or at vastly reduced capacity for months, most of those employed to provide simultaneous verbal interpretation have had little or no work since the start of the crisis, says Maia de la Baume, writing for Politico (EU contract workers even took to the streets to protest). According to the UN Department of Global Communications "working from home is uncharted territory for UN interpreters". Interpreting is very much team work: interpreters typically work in pairs or a team of three in a booth – they now work solo. They need to have the right equipment—including hardware and software—to ensure seamless internet connectivity and audio quality. And, last but not least, their home environment needs to be conducive to the need for the high level of concentration the job requires.
A number of interpreting platforms have sprung up over the past few years to cater to video remote interpreting (VRI) demand but relatively few offer an online alternative to multilingual conferences, where interpreting is delivered simultaneously into lots of different languages. On the plus side, the COVID-19 pandemic will no doubt bring about a major boost in its development. Only four days ago, on September 25, a consortium of some of the biggest names in Japan's IT and telecom sectors announced that their next big step is to develop advanced simultaneous interpretation technology. (3) And NY-based simultaneous interpreting platform Kudo has recently raised USD 6m in a funding round led by venture capital firm Felicis Ventures as demand for remote language services skyrockets. (4)
Should we be "cutting corners" in translation? The case of COVID-19 vaccine documentation
EU rules require medicines to have documentation (labels, packaging, instructions …) translated in all of its 24 official languages; the pharma industry is pushing to have one language only in order to speed up deployment of possible COVID-19 vaccines. It appears that the EU is envisaging the translation in a selected number of languages, with the remaining translations available online. Understanding relevant medical terms is vital at all times but all the more so during a global health crisis where so much is at stake. Consumer groups say omitting any languages from packaging could hurt patients, particularly those less capable of looking up details online. "The urgency of getting a vaccine should not be an excuse for companies to cut corners on consumer protection," says Monique Goyens, the head of BEUC, which represents major European consumer organizations, quoted in an article on We Forum. The EU is left with a dilemma.
How we coped with the pandemic at cApStAn
cApStAn LQC has worked in a technologically rich environment for a number of years and, with most of our 700 linguists already working remotely from all over the world, we were not overly affected by the shift to virtual. Services were maintained, projects continued, F2F meetings moved to Zoom, MS Teams, Google Hangouts, GoTo, Skype or WebEx, and speaking engagements at conferences went virtual. We used communication technology also to keep the cApStAn flag flying and boost one another's morale. We had meet and greet video sessions with virtual coffee and tea each morning to maintain informal contact in addition to business as usual (you know: the coffee machine chit chat must go on, too…). Today our core team, whether in Brussels or Philly, is free to choose to work at home if they prefer; at the office we are taking turns to avoid being too many at the same time.
In many ways the COVID-19 pandemic has represented an opportunity for us to rethink what we had taken for granted, to streamline our interpersonal communication skills and make the most of a disruptive situation. The pandemic has even inspired one of our most successful initiatives this year, the creation of chez cApStAn. Over the years we have had the privilege of working with some of the most eminent researchers in psychometrics, in survey methodology or in linguistics, and with pioneers of the testing industry and innovators in talent management. We decided to replace the conversations we would have during coffee breaks at conferences and in F2F meetings with a virtual "coffee-bar" where great minds could "meet" and share their insights: we are very proud that ten eminent experts have contributed so far to chez cApStAn, and more will follow!
So, what does the future hold?
According our CEO Steve Dept, the energy we pour into weathering the COVID-19 storm should not prevent us from staying focused on long-term vision. Our immediate needs are to save the jobs, to keep the team spirit alive, to diversify the client base and secure new assignments (to make up for those that are postponed). In addressing those, we should look at streamlining scattered or diffuse project management, note possible efficiency gains due to a better use of the technology we were already dabbling with, and stay on top of new developments. In the long term, we should keep our sights on areas where our expertise in linguistic quality assurance can add value: sensitive data collection instruments, attitudinal surveys, high-stakes tests or certification exams in multiple languages. Keep doing what you're good at, and get better at it by learning new skills that build upon the previous set. Upscaling rather than pivoting, expansion rather than entrenchment. We are fortunate to have a team with the highest work ethics, a good morale and strong dynamics. Steve says he looks forward to reporting on cApStAn's progress in a few months' time.
Footnotes
1)Examples include medical schools (in the US, at Harvard, for American Indians), regional authorities (in Australia, for aboriginal populations), social cooperatives (in Italy, for migrants), newspapers (US, La Noticia, for Hispanic communities), immigration and settlement agencies (Canada), community radios (Mexico), city councils (Oslo, Norway), provincial language publishing houses (China), police forces (East Anglia, UK), medical charities (UK, Doctors of the World) and artists (Bollywood actors in India). For languages which are not written, e.g. in Tibet, materials have been translated into video and audio formats by village leaders. At the international level the non profit Translators without Borders is doing a commendable job by building a glossary to standardize COVID-19 related key words across different dialects. And, as the pandemic spreads to nations with lower literacy rates and more vulnerable groups of people, it is working on alternative communication channels and formats.
2) According to the US non-profit ProPublica, in April 2020 there were more than 40,000 confirmed cases within New York City limits, 49% of which spoke a language other than English at home.
3) The "Consortium for the Promotion of Advanced Multilingual Translation Technology" will use AI to break up long sentences into shorter, more easily translatable chunks. It also hopes to make the existing interpretation software more accurate, by using various information sources and taking into account factors such as overall context and situation recognition. 4) Kudo is a video conferencing platform that facilitates multilingual meetings in the cloud. It offers a self-serve solution for companies, which can set up their meetings on Kudo as needed. They schedule their own meetings, send the invitations directly to the participants, connect with interpreters directly, upload their own documents, and add the voting items they need. Interpreters are broadcast live on different language channels, which users can tune into and switch between to hear interpretations in a specific language.
Image credits: the winning design for FIT (International Federation of Translators) annual poster contest