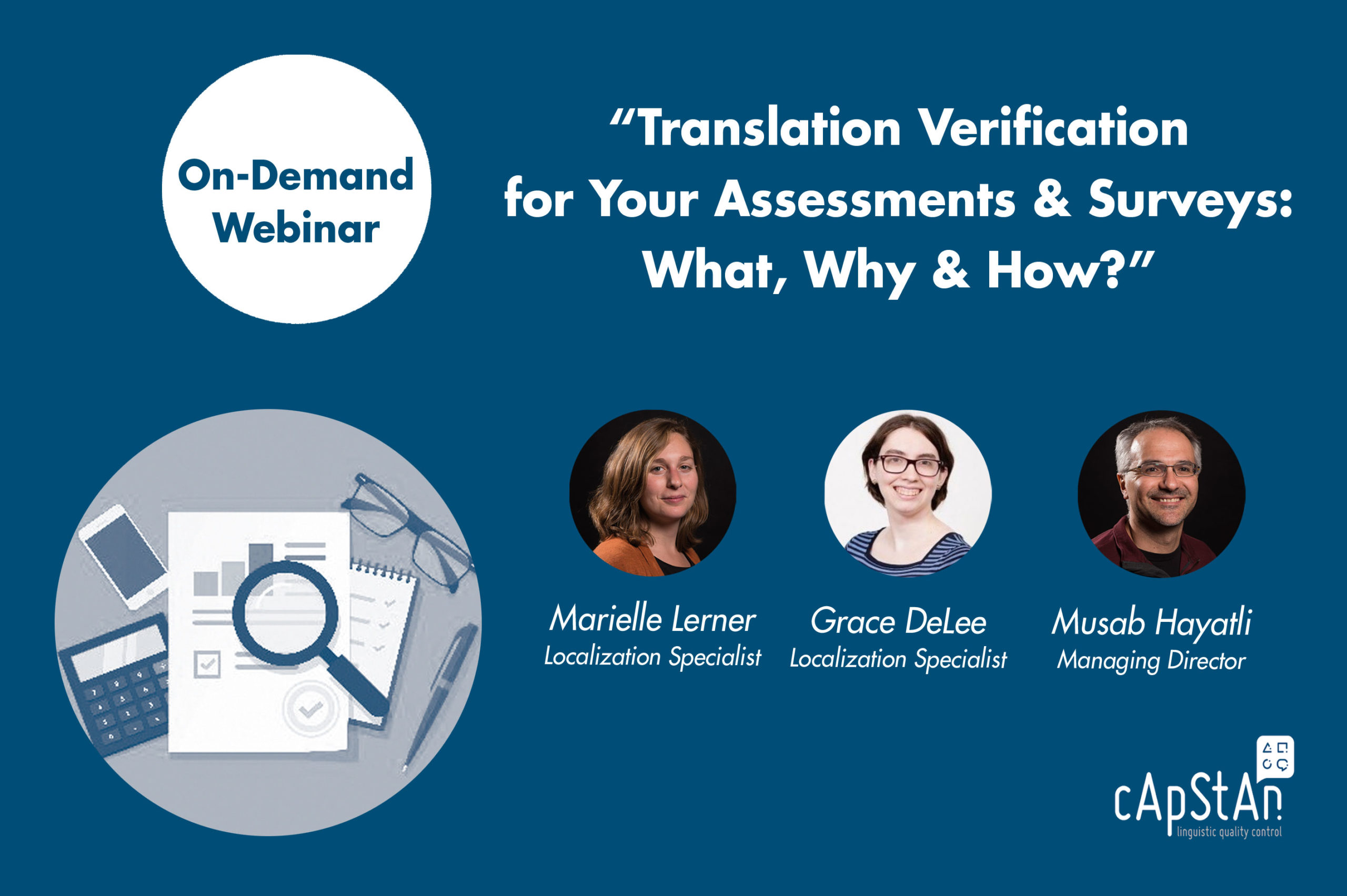 23.07.2020
On-Demand Webinar | Translation Verification for Your Assessments & Surveys: What, Why & How?
Translation Verification for Your Assessments & Surveys: What, Why & How?
Speakers – Marielle Lerner, Localization Specialist | Grace DeLee, Localization Specialist | Musab Hayatli, MD-Americas
Recorded on July 22, 2020 | Duration: 45 minutes
At a previous webinar we discussed the pros and cons of using back-translation to evaluate the quality of your translated tests and questionnaires. We also introduced the translation verification method and how it can better identify and correct potential issues in the translation of your high-stakes content.
Join us this time for an exclusive, in-depth look at the translation verification process we use here at cApStAn as part of our translation quality assurance package. We presented a live demonstration of how we do what we do and why that works, including:
-What kinds of issues do we come across and tackle?
-What are the steps and what tools do we use?
-How do we make sure that you're asking the same questions in all the languages you need?
-What is the collaboration model we follow with our clients from the assessments and surveys world?
Come and enjoy this 45-minute taster of the Whats, Whys, and Hows of the translation verification process which was followed by a live Q&A session.
Update the form to receive the webinar recording and slides.
Fill out the form to receive the webinar recording and presentation slides:
About Speakers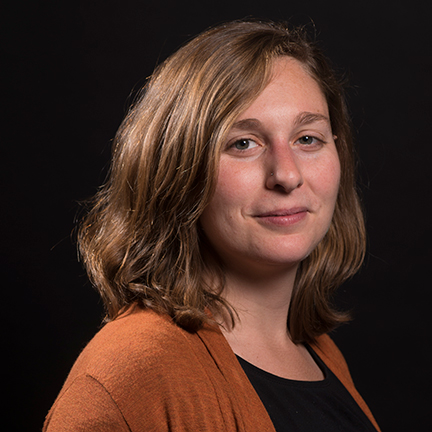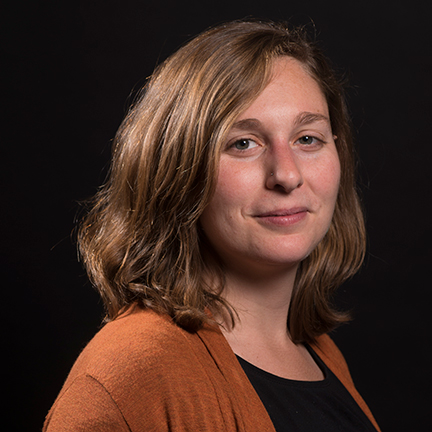 Marielle Lerner, Localization Specialist
Marielle Lerner learned French from her Swiss family, and studied Latin and Italian at the University of Pennsylvania and Università di Bologna. She learned Spanish while teaching English in Bogotá, Colombia. She has a BA and PhD in linguistics from UPenn, where she researched child language acquisition of Spanish as it applies to language variation and change. Prior to joining cApStAn, Marielle worked as a lecturer in linguistics and ESL at UPenn.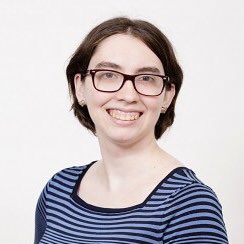 Grace DeLee, Localization Specialist
Grace DeLee studied Japanese and Linguistics at the University of Massachusetts before going on to get a Master's Degree in Translation at SOAS University of London. Prior to joining cApStAn in 2018 she worked as a senior translator for UZABASE Inc., a top financial media start-up in Tokyo.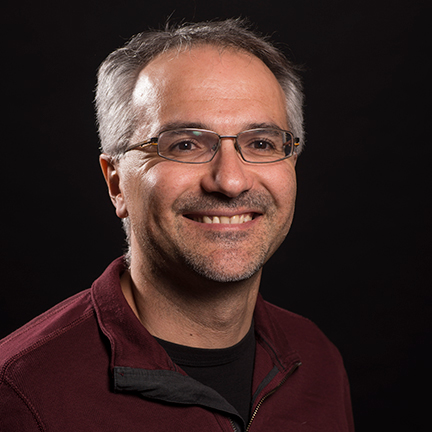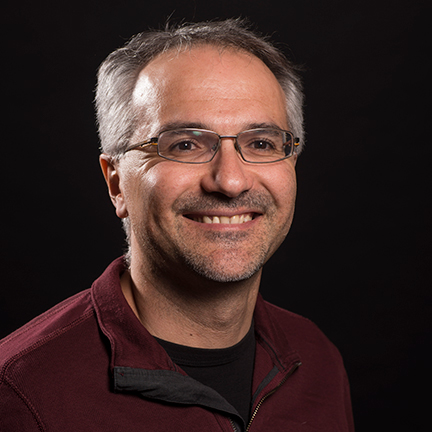 Musab Hayatli, Managing Director-Americas
Musab Hayatli is the driving force behind cApStAn's expansion plans in the Americas. He studied English and Linguistics in Damascus, Syria, and Oxford, England. Musab is a certified translator, and a member of the Institute of Translation & Interpreting in the UK. He joined cApStAn in 2011 after a stint as a senior translator and language consultant in Good Harbor Consulting in the UAE, and prior to that, he was the Arabic Editor of Forced Migration Review, an Oxford University journal.
---
More on the Translation Verification approach at cApStAn
When cApStAn Linguistic Quality Control was founded in May 2000, its core activity was to verify and validate translations produced by third parties. The founders brought in their experience from the OECD's Programme for International Student Assessment (PISA).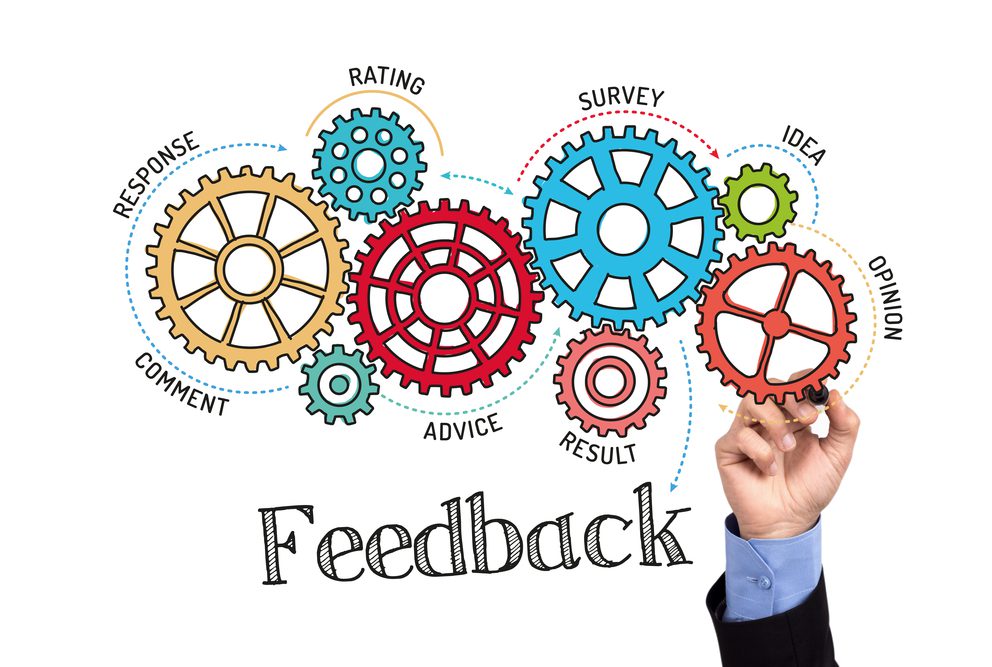 Twenty years later, cApStAn offers a comprehensive range of translation quality assessment services such as expert reviews, translation verification, evaluation of machine translation quality, or final optical checks on delivery platforms.
While the cApStAn seal of approval is not a formal certification, it goes a long way in endorsing your translation procedures, confirming a translated version's equivalence to the source and its appropriateness for the target audience.
Check out the process explainer video below