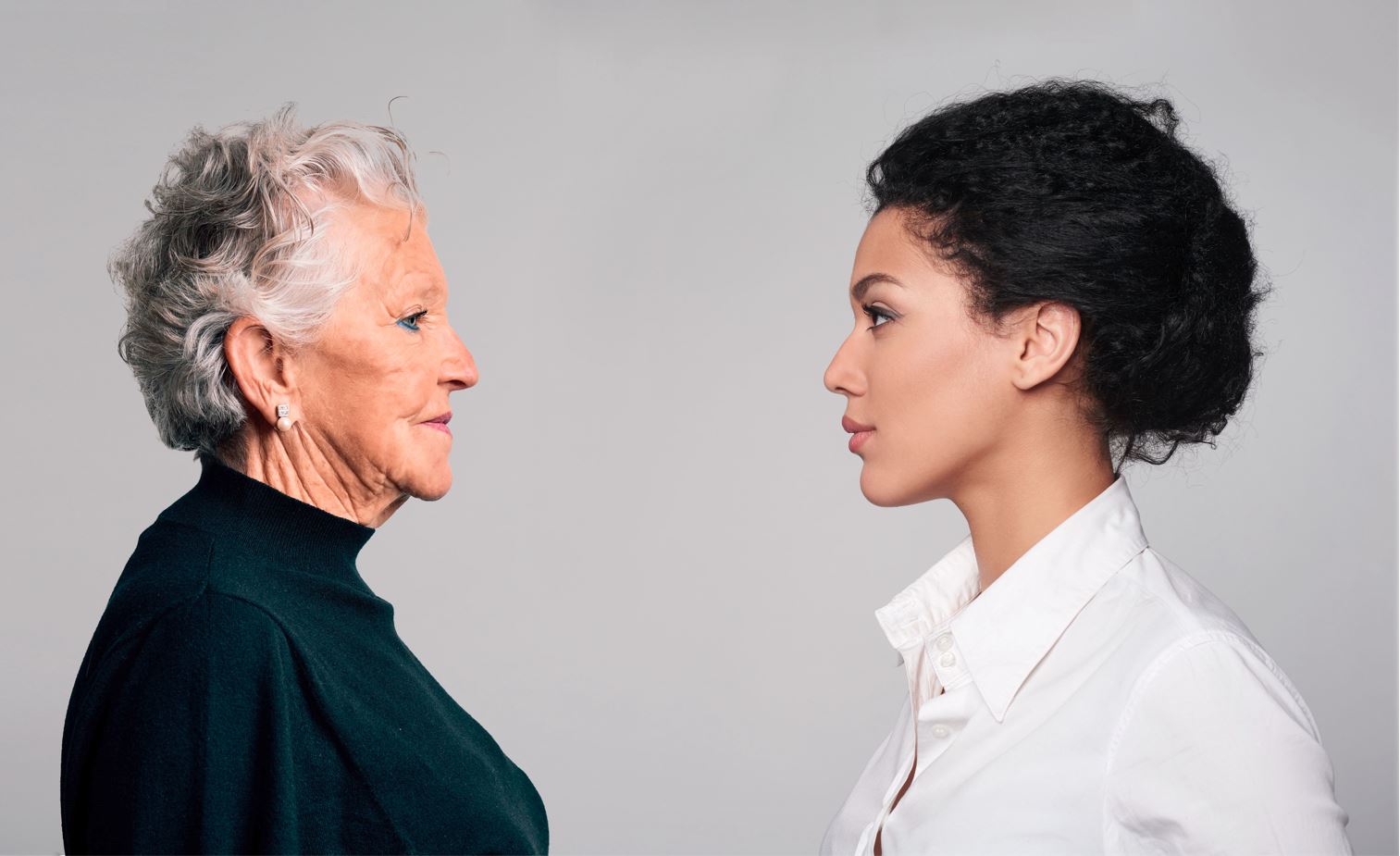 30.09.2021
Is ageism the last "acceptable" bias? High time that it receive the same standard of scrutiny as other forms of discrimination, says a recent UN report
by Pisana Ferrari – cApStAn Ambassador to the Global Village
The past few years have seen increased attention drawn to issues of systemic discrimination. Racism, sexism, ableism, classism, homophobia, transphobia … are all being called out as socially, ethically, and politically unacceptable. "But in what appears to also be a recent development, we're seeing the exact opposite happening with regard to age", says Mat Whalstrom, a community activist based in San Diego. Usually only referenced in connection with employment law, he adds, age discrimination as a social phenomenon is being treated as innocuous, with replies of "Ok, Boomer" not only allowed to go unchallenged but treated as acceptable. Whalstrom refers to a catchphrase used by teenagers and young adults to dismiss or mock attitudes typically associated with baby boomers, people born in the two decades following World War II. Bridget Sleap is senior rights policy adviser at HelpAge International, a London based international NGO present in 86 countries. She says that "one just has to look at a rack of birthday cards for images ridiculing older people or the rows of 'anti-ageing' creams on the shelves of your local pharmacy" to see how widespread ageism is and how it can appear to be harmless. And it doesn't stop there, she adds. A new report on ageism and age discrimination adopted by the UN Human Rights Council in September 2021, reveals that ageism may be to a large extent unconscious but is indeed socially accepted and pervasive in different aspects of society. One in two people globally have ageist attitudes about older people, and there is also growing evidence of ageism directed against young adults. Internalized ageism leads to structural ageism, which informs legislation, policies and practices. Starting from home, age bias thus pervades every space, including work, public spaces and healthcare, which is why the report calls for the protection from age discrimination to receive the same standard of scrutiny as other forms of discrimination. The World Health Organization's Global Report on Ageism, adopted in March 2021, outlines a framework for action to reduce ageism, including specific recommendations for different actors (e.g. government, UN agencies, civil society organizations, private sector), and the "UN Decade of Health Aging" launched this year, is a worldwide effort "to change the way we all think, feel and act towards age and ageing in order to create #AWorld4AllAges".
The role of language in ageism
Language conveys meaning and can fuel misconceptions that can lead to ageism, reads the UN report. Words such as "elderly", "old" or "senior" elicit stereotypes of older people as frail and dependent, and they are frequently used in a pejorative sense. Similarly, the word "juvenile" elicits a stereotype of younger people as immature. An interesting "Quick Guide to avoid Ageism in Communication", published by the WHO, provides examples of terms to avoid (eg. "silver tsunami", "gray wave" and "agequake", which evoke images of older adults becoming a burden on society) and offers possible alternatives. It is best to use language that is objective and does not only focus on age, disability or other stereotypes associated with different age groups, suggest the authors. "Language should show a sensitive understanding for the person's situation without being pitying, stereotyping or patronizing."
Intersection of ageism and other forms of bias
Ageism can also compound with other forms of inequality based on gender, disability and health status, ethnic origin, indigenous identity or migrant status, gender identity and sexual orientation, socioeconomic status and other grounds, reads the UN report. In the workplace, for example, "gendered ageism" is the intersectionality of age and gender bias and is a growing concern in particular for professional women. Because of "lookism", which relates to the importance of a youthful and attractive appearance, women face ageism earlier than their male counterparts. The bias can not only erode women's confidence, but also affect job security and financial future as they are perceived in the workplace as being less valuable, less competent, and irrelevant as they age.
How Covid-19 exposed deeply engrained ageism
In the field of health care, the Covid-19 pandemic has further exposed deeply ingrained ageism and underscored that failing to protect the rights of older people has serious consequences, reads the UN report. Government failures to contain Covid-19 have taken a devastating toll on older people, from those living in nursing homes to those whose livelihoods were threatened by lockdowns. Ageism also erupted on social media as young people started referring to the coronavirus as a "Boomer remover", referencing the fact that the virus affected mostly people over 60. The nickname went viral, with over 65,000 tweets containing the term in a matter of only weeks, and caused an uproar, turning social media into what some journalists at the time described as "the new battleground for generational warfare".
Ageism in advertising and marketing
A recent article in the journal of AARP, a US-based interest group focusing on issues affecting those over the age of fifty, points out that in the US people 55-plus now control 70% of all personal wealth. Older adults buy 56% all new cars and trucks, 55% of personal care products, 65% of health care, 68% of home maintenance and repairs, and 76% of all prescription drugs. But advertising is still far too often out of sync with the reality of today's older, buyer, reads the article, and many ads are viewed by the older population as stereotypical and patronizing. "Companies would do well to insist upon age diversity in their marketing departments," says Mike Hodin, CEO of the Global Coalition on Aging, the world's leading business voice on aging-related policy and strategy, quoted in the article. "It's not a matter of being politically correct; it's in their own self-interest." The GCOA sees aging as an opportunity. "Silver is the new green", reads their mission statement. "That's why we're stepping up to address population aging with new ways of thinking".
Ageist bias against the young
According to the "Global report on Ageism" published by the World Health Organization in March 2021, ageism against younger populations manifests across a range of institutions including the workplace, the legal system and politics. There is also growing evidence of ageism directed against younger adults from population-based studies, which suggest that in Europe it may be more prevalent than ageism against older people. The authors say that the impact of ageism against younger people is still poorly understood and more research is needed.
Sources
"Report of the Independent Expert on the enjoyment of all human rights by older persons", Claudia Mahler, adopted at UN Human Rights Council's forty-eighth session, 13 September–1 October 2021
"Ageism: The Last Acceptable Bias", Mat Whalstrom, OB Rag, September 20, 2021
"Gendered Ageism Affects Women's Job Security And Financial Viability", Bonnie Marcus, Forbes, September 20, 2021
"Ageism Is Alive and Well in Advertising", Ken Dychtwald, AARP magazine, September 8, 2021
"Global report on Ageism", March 2021, World Health Organization (WHO)
"Ageism hurts young, old alike: New report shows extent of impact", DowntoEarth, March 19, 2021
"Covid-19 Exposed Need to Protect Older People's Rights", Laura Mills, Human Rights Watch, March 4, 2021
"What Is 'Boomer Remover' and Why Is It Making People So Angry?", Andrew Whalen, Newsweek, March 13, 2020
"Quick Guide to avoid Ageism in Communication", WHO, adaped from FrameWorks Institute, 2017
Cover photo: Graphillus, graphic elaboration on two photos from Shutterstock
Infographic: "Global report on Ageism", March 2021, World Health Organization (WHO) https://www.who.int/teams/social-determinants-of-health/demographic-change-and-healthy-ageing/combatting-ageism/global-report-on-ageism