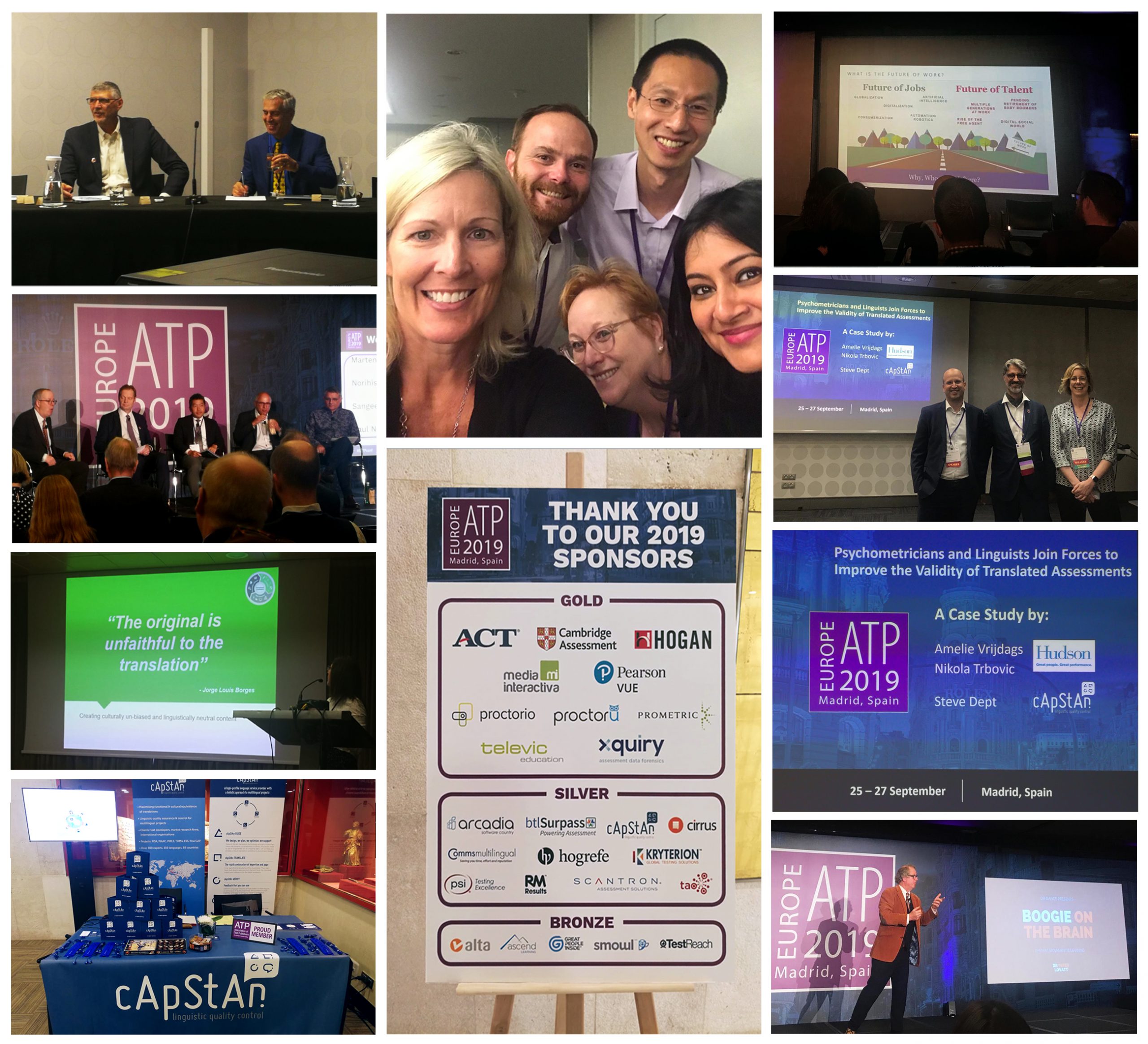 08.10.2019
Highlights from the E-ATP Conference in Madrid
by Pisana Ferrari – cApStAn Ambassador to the Global Village
The E-ATP conference was a vibrant event, bustling with awareness of disruption in the testing industry and eagerness to board the train to transform assessments. Artificial intelligence, machine learning, brain science, big data, personalized and adaptive learning, rapidly changing skills and other technology, combined with global cultural changes, have the potential to bring a digital upheaval in the assessment industry. Assessments will most likely be very different in 2029 than they are today. cApStAn CEO, Steve Dept, and Devasmita Ghosh, business development manager, attended the conference.
1st day: networking, hackathon on the future of learning, keynote session and tech-based assessments
There was a brilliant opening keynote session by Lewis Garrad on the future of work. Lewis Garrad is a chartered British Occupational Psychologist who graduated from the University of Nottingham. He is partner at Mercer, the world's largest human resources consulting firm, and collaborates with the Harvard Business Review. He is an advocate for improvement in organisations through people focused solutions. He has co-authored the EE awards publication "The future of work. Insights from our global engagement 101 influencers" (https://bit.ly/359nGsJ), and regularly writes about work related issues on his LinkedIn profile (https://bit.ly/2omXYQD).
Devasmita was part of "Team Blue" at a hackathon brainstorming on the future of assessments in 2050.
Another milestone presentation was that of Stephen G. Sireci, from the University of Massachusetts Amherst, and John Weiner, from PSI Services, who gave us an update on the Guidelines for Technology-based Assessment Guidelines, a joint ATP-ITC initiative. Our very own Steve Dept will contribute to the translation and adaptation chapter in these TBA guidelines.
2nd day: CEO Panel Discussion on EdTech's role in reinventing assessments
What do we in the assessment industry need to do over the next decade to reinvent or adapt to the challenges of new technology? Is there a threat or change to the concepts of fairness, equity and validity in a digitally disruptive assessment market? This panel of four thought leader CEOs in the assessment industry explored new technologies and the threats and opportunities they present and how all of this will impact assessments in the future. This was a high-profile panel discussion. We found it inspiring that these four bright minds could gracefully disagree with good humour and sound arguments. We don't leave the room with a sense of certainty about the breadth and intensity of disruption, but we were delighted to hear that assessment and learning will be more intertwined in the near future. The cross-pollination between learning and assessment was our personal take-home message from this panel. Big thank you to John Kleeman (Questionmark), for moderating this with elegance.
Panelists: Marten Roorda, ACT; Norihisa Wada, EVP CMO Edulab, Inc; Sangeet Chowfla, President and CEO, GMAC; Saul Nassé, Group CEO, Cambridge Assessment.
Test Localisation in Talent Management: joint cApStAn – Hudson presentation
At a joint breakout session Amelie Vrijdags, Lead Psychologist at Hudson R&D, Nikola Trbovic, R&D Director at Hudson, and linguist Steve Dept, cApStAn CEO, shared how embedding translation in the item development process increases validity and comparability. Carefully crafted assessment tools often depend on subtle wording choices, which are expected to trigger certain reactions in respondents (or not). This is part of the psychometrician's craft. The psychometrician can hardly be expected to consider possible repercussions of lexical choices in other languages. Usually, translators attempt to replicate or imitate the effect of wording, and one can hardly expect of translators that they identify the psychometric features they need to focus on. In a collaborative approach more language parameters are taken into account by psychometricians; and more psychometric characteristics are taken into account by linguists. The shift from a consecutive client/vendor model to a collaborative approach is very promising. Read more here.
Game-based Assessments
Game-based assessment (GBA) appears to be the one of the latest alternative methods to assess an individual's personality and cognitive abilities. Arctic Shores team highlighted the difference between GBAs and traditional assessments and how a GBA is designed by incorporating data science while retaining psychometric properties of a traditional assessment. They also presented some interesting findings on GBAs for the workforce and how they implemented game-based solutions for their clients.
Final keynote
What a fascinating final keynote at the E-ATP conference! Research shows that movement leads to positive thinking and pro-social behaviour. Dr. Peter Lovatt took us through the psychology of movement and how it affects human skills such a problem-solving and creative thinking. He made the audience dance too! Dr Lovatt is a Dance Psychologist. He set up the first Dance Psychology Lab in 2008, from where he studied how movement changes the way people think and solve problems, how it changes social interaction and increases pro-social behaviour, and how movement changes people's feelings.
Key take home messages
The key take home messages from the E-ATP conference, according to Steve Dept, are that learning and teaching are becoming more closely intertwined with measurement and will feed one another; that the term 'testing' may give way to 'measurement'; that, speaking of measurement, gamification has become more than a gimmick: there is now enough scientific evidence to show that it does measure and predict a broad range of skills; finally, that networking is an art as much as a skill, and nothing serves it better than authenticity.
Photo collage: Clockwise from top left: Stephen G. Sireci, from the University of Massachusetts Amherst, and John Weiner, from PSI Services; Team Blue at the Hackathon brainstorming, with our own Devasmita Ghosh in the right hand corner at bottom; keynote address by Lewis Garrad on the future of work; cApStAn CEO Steve Dept with Amelie Vrijdags, Lead Psychologist at Hudson R&D, and Nikola Trbovic, R&D Director at Hudson; cApStAn and Hudson joint presentation at E-ATP; final address by Dr Peter Lovatt; 2019 E-ATP conference sponsors; cApStAn booth; Borges quote on translation, CEO panel discussion.