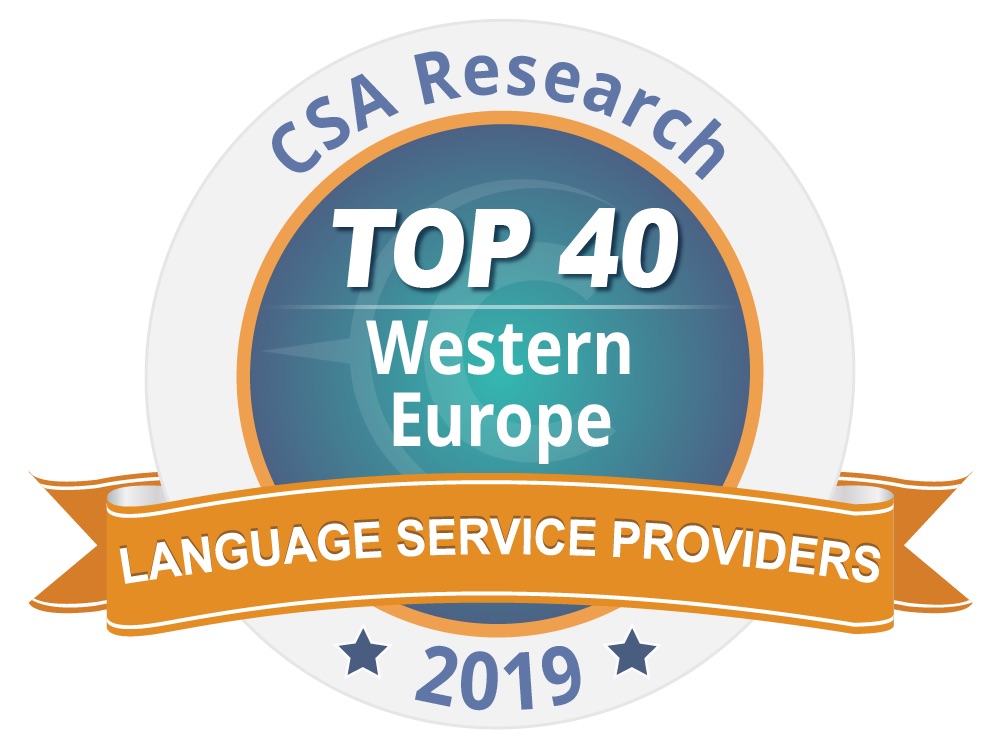 30.05.2019
cApStAn Linguistic Quality Control recognized Among Top 40 Largest Language Service Providers in Western Europe
by Pisana Ferrari – cApStAn Ambassador to the Global Village
cApStAn LQC is proud to announce its official ranking as one of the Top 40 Language Service Providers (LSPs) in Western Europe by independent market research firm CSA Research.
"CSA Research is perceived as a reliable source worldwide for business insights on the language service industry, so having made it onto this ranking is a meaningful milestone for cApStAn", says CEO Steve Dept. "As we approach the twenty-year anniversary of the company's foundation, this recognition comes at a turning point in the journey that we set off on in the year 2000, as a small team working out of Brussels on the linguistic quality control of national versions the first edition of the OECD PISA international survey. We have come a long way: today cApStAn has offices in Brussels and Philadelphia, a core team of 22 project managers and translation technologists who coordinate and supervise a network of 350+ freelance linguists and subject matter experts, under contract but working remotely from all over the world, covering 150 languages, in 85 countries. More importantly, our freelance partners are trained to use the same methodology, the same reporting categories and the same tools. For two decades now, cApStAn has played a pioneering role in organising and documenting sophisticated translation and adaptation models for all major international large-scale assessments (ILSAs), in which cross-linguistic, cross-regional and cross-cultural comparability are a key requirement. In addition to PISA other flagship projects include PIAAC, TIMSS, PIRLS, the European Social Survey (ESS), Pew Research Center's Global Attitudes Project. Our mission is to shape, improve and promote best practice in translation and adaptation of data collection instruments."
"CSA estimates the current global translation, localization, and interpreting services industry worth US$49.60 billion, with a compound annual growth rate over the last 11 years at 7.76%, a very encouraging figure", says Andrea Ferrari, cApStAn LQC's CFO. "We are proud of our own growth of 12% over the past year, which has enabled us to be included in the CSA 2019 ranking for Western Europe, along with other distinguished colleagues".
Read more about cApStAn
Read more about CSA Research