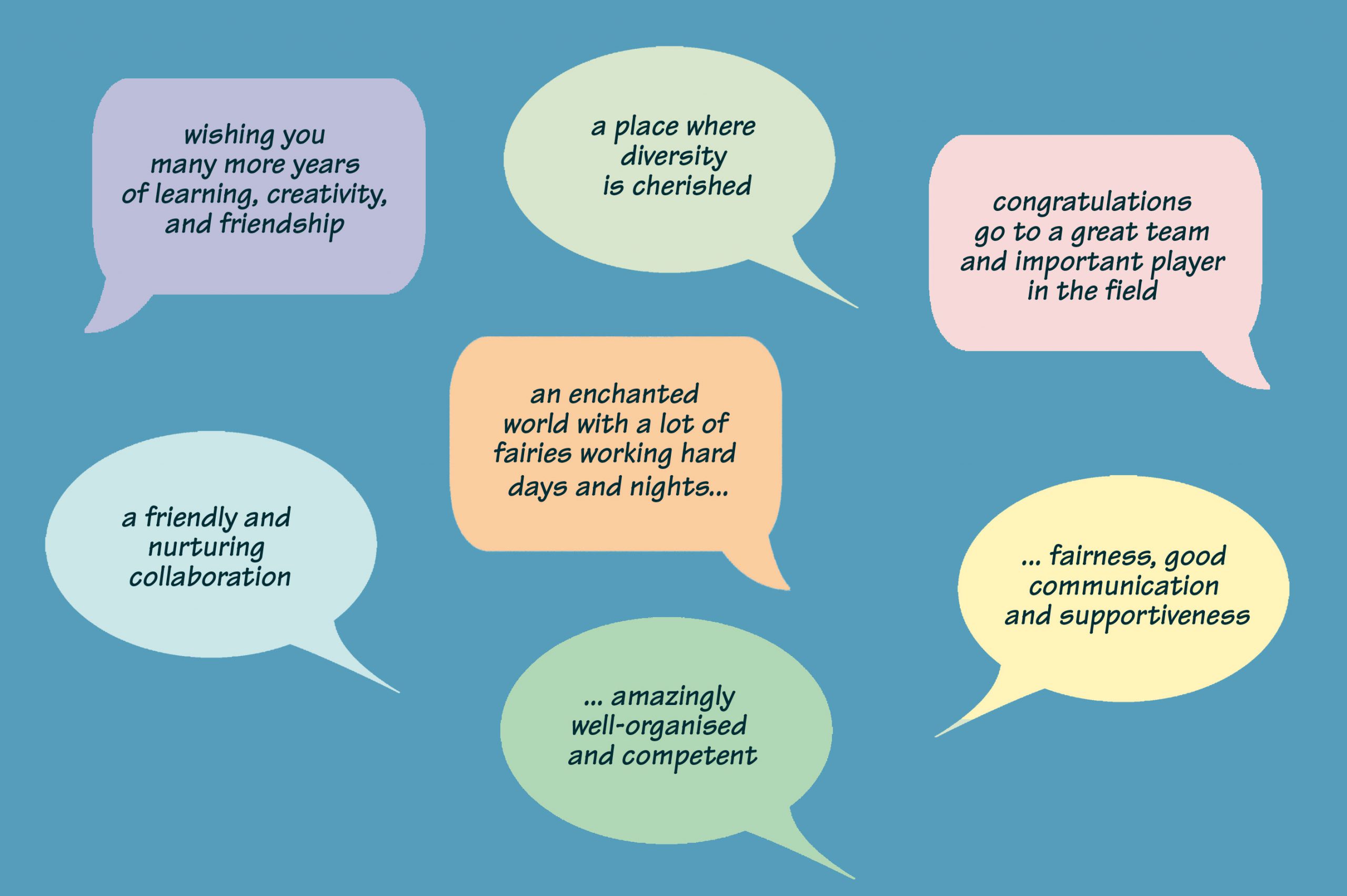 28.05.2020
2000-2020. What they say about cApStAn
cApStAn Linguistic Quality Control is the language service provider with a holistic approach to  translation and adaptation of multilingual assessments and surveys. cApStAn also stands for a certain lifestyle and spirit: "excellence among friends", as one of the founding partners likes to put it. Over the past 20 years we have had the privilege of working with some of the most eminent researchers in psychometrics, in survey methodology and linguistics, as well as with pioneers of the testing industry and innovators in talent management. We have had the privilege of serving prestigious international organisations, research institutes and NGOs in the fields of testing and assessment, including the OECD, IEA, UNESCO, Education Ministries, ESS ERIC and the Pew Research Center, to name but a few. And, of course, we pride ourselves in working with incredibly talented linguists and subject matter experts across the world, among the finest in the profession. All of our projects, across very diverse teams – partners, clients and linguists alike –have been characterised by a collaborative spirit, good communication, and mutual respect. We believe building strong and durable relationships is at the core of any successful business model, and our efforts in this respect have paid off: projects have led to new projects and long-term cooperation, and many friendships have sprung up in the process.
We are humbled to have received so many wonderful testimonies of such friendship and esteem on the occasion of our 20th anniversary, and are delighted to share these here, with our warmest thanks to you all!
---
To the most global competent colleagues I know – Happy Birthday cApStAn!
Over the past 12 years, I have been working with cApStAn in probably the most prominent – but also complex – project in educational assessment there is: The OECD's Programme for International Student Assessment. This project has been implemented in over 80 countries and more than 100 languages since 2000. In my different roles as national project manager, international coordinator and chair of an expert group I came to rely on the amazing linguistic expertise of the cApStAn colleagues in any situation. Be it the challenge to identify dishes on a menu during meetings in exotic places, mastering the art of presenting your business card in any given cultural context, decipher the hidden meaning in cryptic emails that only look as though they were written in English, or understanding the importance of a folkloristic cap as an item in a questionnaire – no question remains unanswered. Your in-depth knowledge in linguistic questions can't be matched by any other institution. Your innovative approaches and continuing development of new tools in this area are most impressive and facilitate our research in educational assessment in many aspects. So "Happy, happy Birthday" to all of you, working with you is always a pleasure and I am looking forward to new cooperative adventures in the future.
– Dr. Nina Jude, DIPF | Leibniz Institute for Research and Information in Education, Frankfurt, Germany
---
Working for cApStAn, I always felt safe and protected to deliver my best. The project managers were there to answer my questions and provide support. Our mutual goal was to make the end product as good as it can be.For me, cApStAn represents devotion to quality, achieved through friendly and nurturing collaboration. It's a place where diversity is cherished and people are happy to learn from each other. I congratulate them on their 20-year anniversary and wish them to continue on this path of "excellence among friends". That's the best business model I've seen in my 15 years of freelancing.
– Jelena, expert linguist for Serbian
---
I've been working with cApStAn since 2013 and I must say this collaboration has been a real pleasure! It has been great to take part in their several interesting projects of global importance. Professionalism, staff friendliness, fairness, good communication and supportiveness are some of their hallmarks. Their appreciation when you go the extra mile for the sake of thoroughness is also motivating. I hope they keep up the excellent qualities displayed in work relationships and continue to excel in the linguistic quality control field.
– Deric, expert linguist for Brazilian Portuguese
---
The European Social Survey (ESS) has been working with cApStAn for 6 rounds, through linguistic verification of our questionnaire translations. Having one strong partner for all our language versions, consisting of an amazingly well-organised and competent central team and very skilled and experienced collaborators in all languages, has for sure contributed to the overall quality of our questionnaire translations and, thus, to the overall comparability across our survey. The collaboration has been very professional and reliable throughout. My congratulations go to a great team and important player in the field of cross-cultural surveys!
– Dr. Brita Dorer, Head of the translation team, European Social Survey (ESS)
---
Happy Anniversary to cApStAn, its great founders and its awesome team!Based on my own personal experience at IEA, I have come to see expertise as a work in progress. It is something that always enhances over time, providing that effort is made and that there are enough opportunities for practice and space to reflect on one's past actions. cApStAn does not shy aware from any (ad)venture within the field of linguistic quality control, and so its (collective) experience and capacity to make a difference has developed immensely over the past decades. The translatability exercise is just one example of many.Challenges and constraints can foster expertise. For instance, when encountering external influences or pressures that demand actions, trigger reflection, and beget innovation. IEA has been a part of presenting new such challenges to cApStAn and it's fair to say we now reap the rewards of their expertise!
– Dr Paulína Koršňáková, Senior Research and Liaison Adviser, IEA
---
20 years ago, working through distance for cApStAn was not a result of lockdown. But it was a moulded teamwork from different parts of the world, full of respect, professionalism, appreciation, and joyful spirit.That's how I can sum up my 10 years with cApStAn, and I wish many cheerful, successful and healthy years ahead.Happy Anniversary to cApStAn and to all the team.You are Awesome!Cheers.
– Ibtissam, expert linguist for Arabic
---
cApStAn's expertise has been a critical component of our joint work on large-scale assessments including ALL, PIAAC and PISA over almost 20 years. Our relationship has always been collegial in the fullest sense of the word. From helping shape the big picture – by defining processes and procedures for contractors and countries – to attending to the smallest details important for item quality, our cApStAn colleagues are simply the best. Happy Anniversary!
– ETS Global Assessment
---
Congratulations on the 20th anniversary of cApStAn's founding.As a mercenary not belonged to any lord, I have been working with cApStAn teams for over 7 years, which gives me an opportunity to feel intimacy and bond.Language is useful but not perfect as a communication tool, because it must express an infinite number of thoughts in a finite number of words. I would like to pay tribute to the serious and thorough attitude of the cApStAn team against the possibility of misunderstanding due to language equivocality.In an era when freelance linguists have to compete with artificial intelligence, I wish and believe that cApStAn who has both seriousness and thoroughness in language will be a strong supporter for them.
– Soonman, expert linguist for Korean
---
Imagine an enchanted world with a lot of fairies working hard days and nights to magically answer to all your questions and realize your wishes with an incredible professionalism and a sparkling humor. You think it's a dream? Not at all, thanks to cApStAn
– Isabelle JARS, Project Manager, ENIM, Lorient, France
---
When entering a new business relationship as a freelancer, you always hope you'll find kind, professional, honest, respectful, and reliable people on the other side. If you are very lucky, they could inspire you and encourage you to learn and grow as a professional and a person. Thank you for being such a business partner to me. Wishing you many more years of learning, creativity, and friendship. Happy anniversary!
– Sanda, expert linguist for Croatian
---
cApStAn has been a great company to partner with for our Translation Audit process. The PM's are diligent in handling our tasks with thoroughness and I appreciate how reliable the team is for communicating well throughout the process and delivery high quality results. They are a great organization to partner with!
– i18n Survey Project Manager – Social Media organization, U.S.A.
---
cApStAn has always been an example to us of how a team should operate. They are very professional, hardworking and passionate about what they do. Each project is approached with a clear vision from start to finish. Their exceptional organizational skills are accompanied with a friendly and attentive communication. cApStAn is a representation of a perfect partner to us.We say thank you and wish you an enjoyable journey as you move forward, and without a doubt, you will continue to succeed in all areas!
– Diskusija, language services partner for Eastern European languages
---
cApStAn is an integral part of our research team. The cApStAn team is very collaborative, and have helped us increase the quality and consistency of our translations every year that we've worked together.
– Project Manager at a U.S.-based research institution conducting large-scale international surveys
---