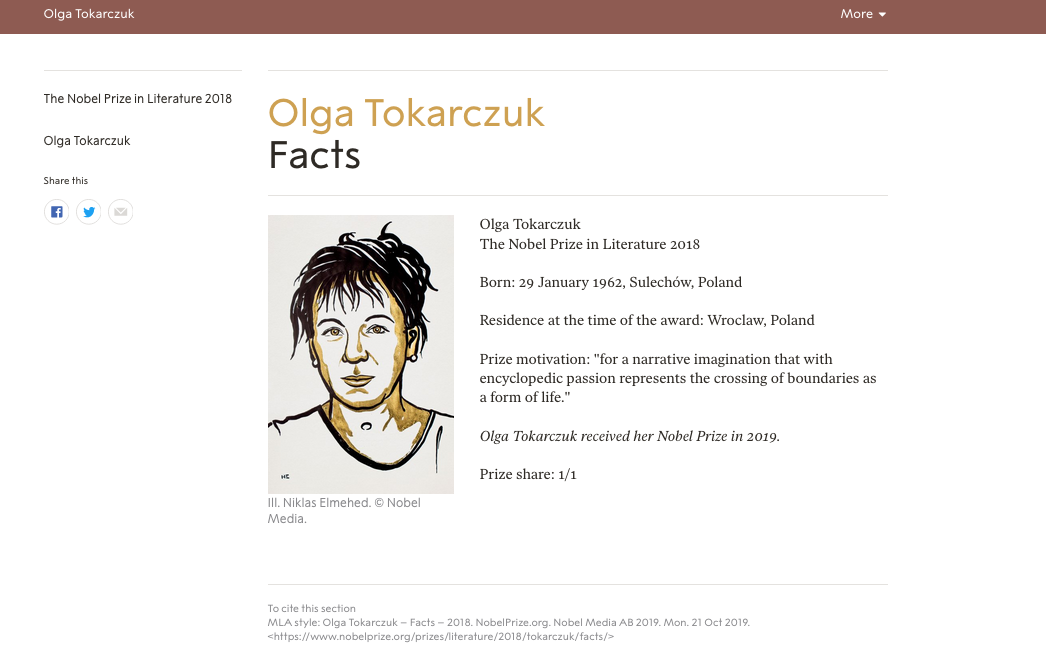 11.10.2019
Would Olga Tokarczuk have won the Nobel prize if she had not been translated into English?
by Pisana Ferrari – cApStAn Ambassador to the Global Village
Nobel prize laureate Olga Tokarczuk has been a bestselling author in Poland for three decades. In a recent interview for "The Guardian" she says she wonders how her life would have worked out if her books had been translated into English sooner. The novel "Flights", the English translation of which won last year's International Booker Prize and made her international breakthrough, first appeared in 2007, and only three of her ten novels have been translated into English so far. "When a book appears in English", she says, "it is made universal, it becomes a global publication." This might not be a desirable state of affairs but for writers from many parts of the world it is a fact of life, notes the author of the article. This begs the question, would she have won the Nobel if she had not been translated into English?
Tokarczuk is a public intellectual, activist and vocal critic of Poland's politics, and her triumph is not just for her but for the whole of Polish literature, says Antonia Lloyd-Jones, one of her two English language translators. The Nobel Prize is wonderful news also for American author/translator Jennifer Croft, co-winner with Tokarczuk of the International Booker Prize, which is shared equally between author and translator.
Source: "Olga Tokarczuk: the dreadlocked feminist winner the Nobel needed", The Guardian, October 10, 2019: https://bit.ly/2M7BQmw
Photo credit: Olga Tokarczuk – Facts – 2018. NobelPrize.org. Nobel Media AB 2019. Mon. 21 Oct 2019. https://www.nobelprize.org/prizes/literature/2018/tokarczuk/facts/