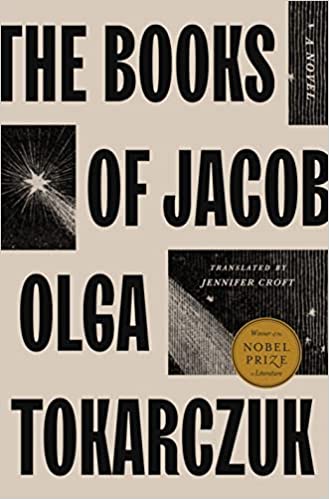 22.02.2022
The release of the English edition of "The Books of Jacob" revives the debate around the recognition of translators' work
by Pisana Ferrari – cApStAn Ambassador to the Global Village
The work of a translator often involves much more than rendering a text from one language to another. Translators can find themselves acting as literary scouts, agents and publicists. Many spend time looking out for new authors and books and suggesting them to publishers. They often also facilitate interviews and join authors on book tours. Do they always get the recognition they deserve? The recent release of the English translation of Polish Nobel prize winner Olga Tokarczuk's The Books of Jacob by Jennifer Croft has brought the long standing issue of how and where to credit a translator's work back to the forefront.
Olga Tokarczuk had been a bestselling author in her country for three decades but was little known elsewhere. Jennifer Croft discovered Tokarczuk's work in 2002 and spent years pitching her books to editors saying "This is an author who's going to win the Nobel Prize", but it took her ten years to find a publisher. The English translation of the novel Flights was finally released by Fitzcarraldo Editions in Britain in 2017 and Riverhead in the US in 2018, and was hailed as a masterpiece. "I was trying everything just to spread the word, but none of that seemed to really be that convincing for editors." It is thanks to Croft's perseverence and to her translation of Flights that Tokarczuk made her international breakthrough, first with the International Man Booker Prize, in 2018 (which Croft and Tokarczuk shared equally between them), and then with the Nobel prize for Literature, in 2019. Croft is the recipient of a number of prestigious translation prizes, grants and fellowships and is a well-known author in her own right. Despite her excellent credentials and the important role she played in Tokarczuk's successes, Croft's name does not appear on the cover of Flights.
The debate about how and where to credit a translator's work has been long-standing. Even if there are other ways to credit the work of translators, having one's name on a book cover has a very high symbolic value. It is not only rewarding from a personal point of view but can also give prestige and bring in new work. Croft has recently become very vocal about the need for a greater recognition for the role of translators. On September 1, 2021, she published a tweet where she said she was no longer translating any books without her name on the cover. She then published an open letter with UK novelist Mark Haddon, calling on publishers to credit translators on covers. The letter has drawn nearly 2,600 signatures and prompted some publishers to begin naming translators on book covers.
On September 30, 2021, which marks the UN's International Translation Day, the Society of Authors in London launched a new campaign in which some of the biggest names in the business asked publishers to give full book-cover credits to translators (see image below).
Commenting on the campaign, Croft said ""We are the ones who control the way a story is told; we're the people who create and maintain the transplanted book's style. Generally speaking we are also the most reliable advocates for our books, and we take better care of them than anybody else" she adds. "Covers simply can't continue to conceal who we are. It's bad business, it doesn't hold us accountable for our choices, and in its wilful obfuscation it is a practice that is disrespectful not only to us, but to readers as well".
The Books of Jacob is a 900-plus page historical novel about an 18th-century Eastern European mystic named Jacob Frank. Croft's translation has been highly praised: "sensitive", "dazzling" and "wondrous" say some of the most prominent literary critics. Croft's name is on the cover.
Read more about the long standing debate around how and where to credit a translator's work at this link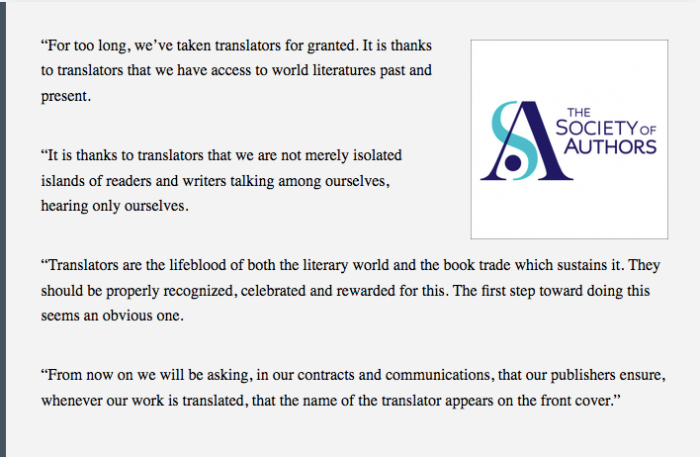 Sources
"Shining a spotlight on the art of translation", Alexandra Alter, The New York Times, Feb 14, 2022
"The Order of Things: Jennifer Croft on Translating Olga Tokarczuk", Jennifer Croft, Literary Hub, February 1, 2022
"Olga Tokarczuk's 'The Books of Jacob' is finally here. Now we know why the Nobel judges were so awestruck", Ron Charles, The Washington Post, February 1, 2022
"Nobel Prize winner Olga Tokarczuk releases 'The Books of Jacob'", Scott Simon, NPR, January 29, 2022
"'The Books of Jacob,' a Nobel Prize Winner's Sophisticated and Overwhelming Novel", Dwight Garner, The New York Times, Jan. 24, 2022
Photo credit Amazon