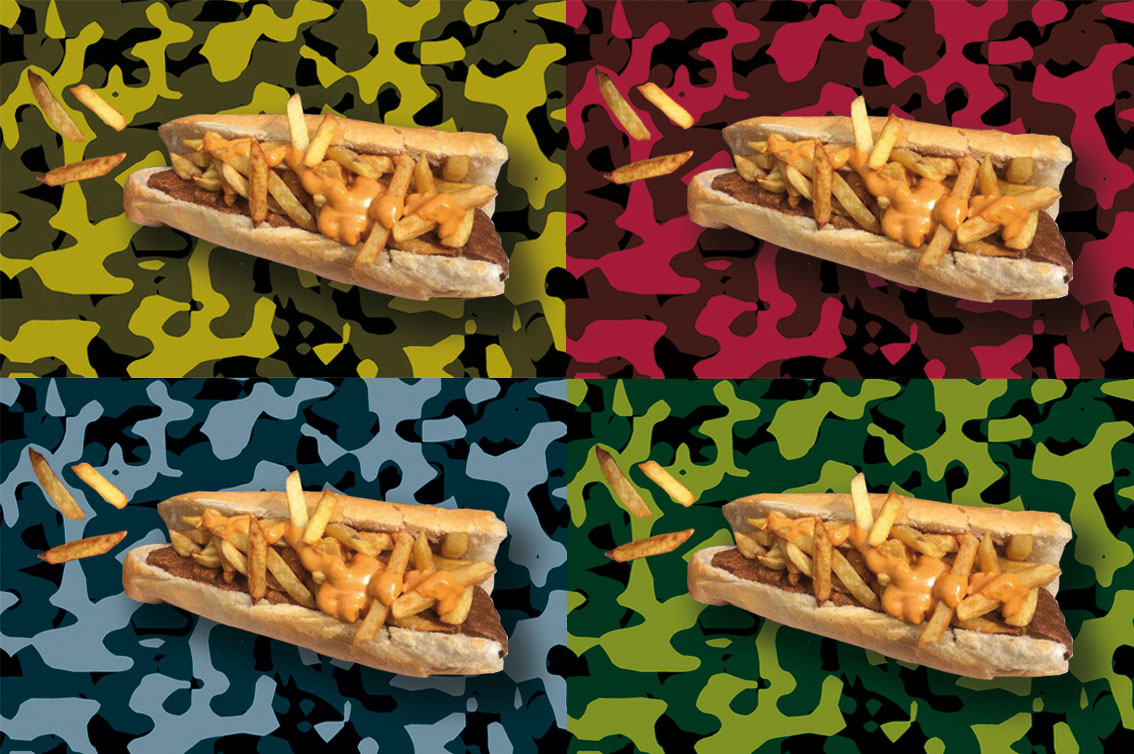 29.04.2020
The odd semantics of Belgium's machine gun (mitraillette) sandwiches, aka américains
by Pisana Ferrari – cApStAn Ambassador to the Global Village
A mitraillette (French word for machine gun) is a type of sandwich commonly served at friteries and cafés in Belgium. The food editor of Taste Atlas says that the name comes from the fact that the baguette bread, on account of its elongated shape, can metaphorically be seen as a gun, and french fries as bullets! (1) According to Focus on Belgium, the first mitraillette came from the Charleroi region (Wallonia) and was created during the inter-war period. When it was hard to make ends meet and soldiers did not have many provisions, they just ate bread with a few fries. (2) Wallonia, coincidentally, is home to arms manufacturer FN Herstal, founded in 1889, says a journalist for the magazine Saveur. (3) The mitraillette is popular in Flanders and Wallonia, as well as the Northern region of France, where it is sometimes called Américain (American), probably because of its resemblance to American burgers. The main ingredients are bread, meat and fries, with various sauces.
Opinions about the mitraillette are divided. The Catalan edition of Time Out lists the sandwich as one of the top six "Horrible things that are considered edible", calling it a "weapon of mass gastronomic destruction". (4) The food & drink editor of the US magazine Westworld says he was "mowed down" by the mitraillette sandwich whilst on a visit to Belgium, "blacked out" about halfway through, and had to wash it down with a DeKonninck Belgian ale on draft. (5) The senior food writer for The Digest, on the other hand, calls it the "crown prince" of Belgian food, describes it a all-inclusive sandwich with high quality ingredients, and asks why nobody is making it in L.A.. (6) The travel magazine Holiday Me refers to it as one of Belgium's culinary delights and the author of an article in Culture Trip says the mitraillette may lack in elegance, but more than makes up for it in buckets of flavor. (7,8) The journalist from Saveur mentioned above even claims it is the best food to eat when you have drunk too much, as "it fixes everything". (9)
The mitraillette is very popular in Belgium, in particular among students. It has a cult following in the country, according to the author of the article in Holiday Me (9). After the Brussels bombings in March 2016, images of the sandwich were shared across social media in Belgium and abroad as a sign of friendship and humour. "Today my country is in mourning. But these scumbags won't win! We also have machine guns… And our humour (even if on this sad day, I don't want to smile)", reads an entry on social media, reported by Buzz Feed news. (10)
Of note that in Belgium (but not in France), un Américain is also the name of a spread made with raw beef and spices, whereas an Amerikaner in Germany is a black and white cookie. The origin of the latter, according to Wikipedia, can be traced back to Glaser's Bake Shop, founded in 1902 by Bavarian immigrants in the Yorkville neighborhood of Manhattan). In reference to racial harmony, Barack Obama dubbed them "Unity Cookies" when visiting a deli in Hollywood, Florida, in 2008. (11)
See more of our articles on "Linguistic curiosities" at this Link
About cApStAn LQC
cApStAn Linguistic Quality Control is a high-profile language service provider with a holistic approach to multilingual projects: this ranges from translatability assessments, preparation of glossaries and translation guidelines-before translation commences-to delivering premium translations that are fit for purpose, and linguistic quality control post translation. The R&D department focuses on in-house development of web-based quality assurance applications and searchable translation memory management.
Read more about our work in translation and adaptation and linguistic quality control at capstan.be
Visuals Graphillus/Milan