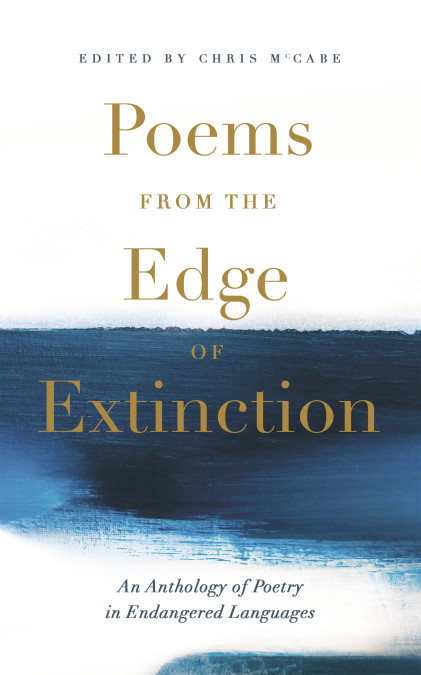 06.11.2019
One language dies every two weeks. How poetry can help activate interest in endangered languages
by Pisana Ferrari – cApStAn Ambassador to the Global Village
A new anthology of poetry from around the world, edited by poet and UK National Poetry Librarian Chris McCabe, gathers together 50 poems in languages from around the world that have been identified as endangered, for reasons as diverse as political upheaval, climate breakdown, genocide, war and the enduring impact of colonialism. These are some of the languages included in the book: Assyrian; Belarusian; Chimiini; Irish Gaelic; Maori; Navajo; Patua; Rotuman; Saami; Scottish Gaelic; Welsh; Yiddish; Zoque.
The poems were collected as part of The Endangered Poetry project (1), an international appeal launched by the UK National Poetry Library to mark the 2017 National Poetry Day (2). The project, says McCabe, was in response to reports by linguists that half the world's languages could be lost by the end of the century. This set us thinking, he adds, about what this meant for poetry, and if we could play a part in collecting, sharing and even activating interest in the poetry cultures inherent in these languages. The initial idea was to preserve at least one poem from each language, alongside an English translation, in the National Library, it was only some time later that a commission editor from the publisher Chambers proposed to publish the collection as an anthology.
The process of collecting the poems involved considerable research across collections, the internet and the SOAS Endangered Languages Archive, says McCabe. (3) His proudest moment was persevering with his attempt to find a poem in Patua, the critically endangered language of Macau in China, and eventually receiving a comment from Miguel S. Fernandes on Facebook, saying he was the last person writing poetry in that language. Another example is John Smelcer, who writes in the Alaskan, Ahtna language, is thirty years younger than the next fluent speaker, and has made it his life's work to document and teach the language.
Regarding the criteria used to select the poems for publication, McCabe says this book is unique in that in some cases there was only one documented poem to draw on from a particular language. In these instances his decision was not so much about assessing "literary merit" in the sense people would normally think of, but "to present this language and poetic culture as a window into a kind of verbal art that might be very different from what readers of poetry anthologies are used to".
Sources
"One language dies every two weeks. How can poetry help? The Guardian books podcast, October 29, 2019: https://bit.ly/2PDMcga
"Rescuing poetry from the edge of extinction", Southbank Center, October 16, 2019: https://bit.ly/33co3RP
"Poems from the Edge of Extinction", John Murray Press: September 5, 2019: https://bit.ly/2PDPbVX
Footnotes
1) Endangered Poetry Project: https://www.southbankcentre.co.uk/blog/endangered-poetry-project
2) "Appeal launched to collect poetry in endangered languages", The Guardian, September 28, 2017: https://bit.ly/2Nb7TCv
3) The Endangered Languages Archive (ELAR) is a digital repository preserving and publishing multimedia collections of endangered languages. https://www.soas.ac.uk/elar/