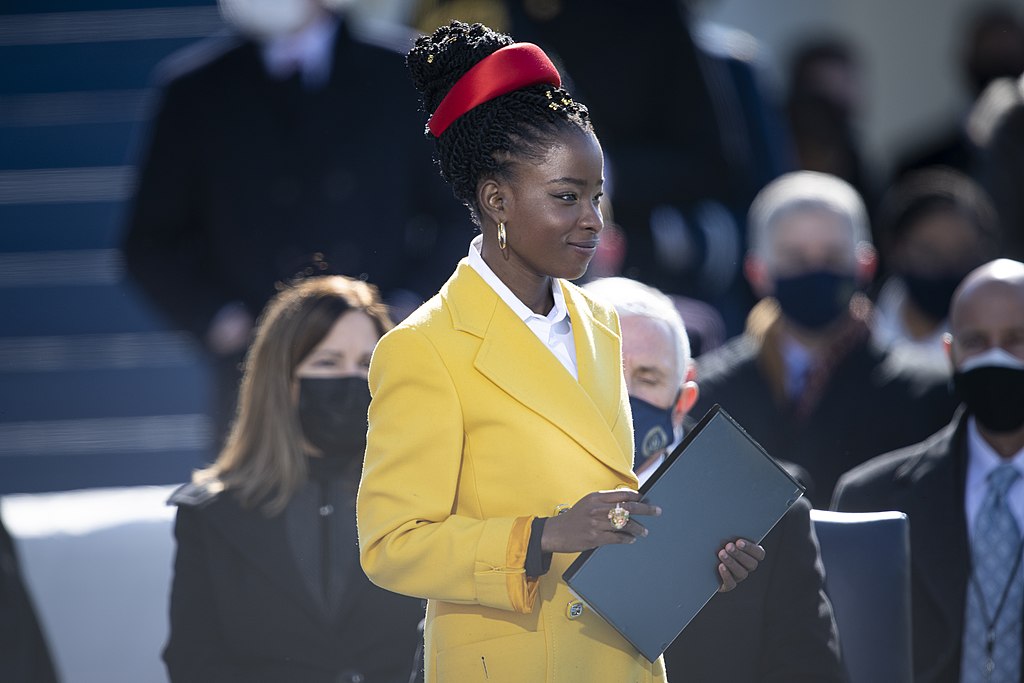 29.03.2021
Diversity, equity and inclusion may be the real issues at stake in the debate around the Amanda Gorman translation
by Pisana Ferrari – cApStAn Ambassador to the Global Village
"One of the more unexpected twists of an unprecedented year is that the little-known business of literary translation has become a source of public controversy". This is how the Los Angeles Times comments the heated debate around the translation of US Poet Laureate Amanda Gorman's poem "The Hill We Climb", which she recited at President Biden's inauguration ceremony. The reading was a huge success: Penguin Random House obtained the rights for publication, and foreign publishers enlisted translators worldwide. Last month, however, two of these translators ceased work on the project. Dutch author and translator Marieke Lucas Rijneveld, who, in 2020, was the youngest writer to win the International Booker Prize, handed back the assignment, after criticism in the media that a white author had been chosen to translate the work of a Black woman. More recently, Catalan translator Victor Obiols was removed from the job and was told that his profile was not suitable for the task. Discussions around the Gorman translation touch upon many highly sensistive. Does the translation community reflect the diversity of our world? Do translators from marginalized communities have the same opportunities? Should literary works be translated only by people who share the same identity and experiences? Can a translator be vetoed on the basis of ethnicity or gender? Translation – and more specifically, the translator – is for once finding itself shoved into the spotlight, as Haidee Kotze, the author of an article for Scroll.In says, and "is becoming a topic of controversy in an unprecedented slew of newspaper opinion pieces and tweet-skirmishes, both in the Netherlands and abroad". Ultimately, some say, the debate may not be about translation at all, but simply the spark that set off a deeper cultural debate about diversity, equity and inclusion.
Lack of opportunities in literary translation
Many see the debate over the Gorman translation as an opportunity to interrogate literary diversity, which, notes the author of LA Times article, makes sense at a time when so many institutions are being scrutinized about representation and inequalities. According to the New York Times, the debate has exposed the lack of diversity in the world of literary translation. As a response to the Gorman controversy the American Literary Translators Association (ALTA) has acknowledged in a recent statement that ethnic equity remains unrealized in the literary translation community, both in and outside of the US. ALTA says the scarcity of Black translators and other translators of color is caused by long-term patterns of discrimination in education and publishing. These patterns make it harder for these translators to access opportunities comparable to those available to their white counterparts. In its statement ALTA says it is working to foster a translation community that better reflects the diversity of our world by supporting current, emerging, and future BIPOC translators with a number of dedicated initiatives.
What counts most, identity or competence?
Ignasi Moreta, editor of the Spanish publisher Fragmenta, thinks it's appropriate to talk about vetoes and censorship in a case like the translation of Víctor Obiols. "Translators must be chosen for their competence". "Any criterion that is not strictly literary, even positive discrimination, is perverting everything". Obiols himself has told Agence France-Presse that if the identity logic is applied he could not translate Homer, because he is not an 8th century Greek, or Shakespeare because he is not a 16th-century Englishman. Ananya Jahanara Kabir, a professor of English at King's College London, told CNN that decisions to drop translators because of racial and/or gender difference miss opportunities for transcultural healing and understanding." "It's a pity if in the search for redressal we forget literature's function of opening and crossing borders, of teaching us to become porous to the others' traumas, resistance, and joy." Alain Mabanckou, a widely translated French Congolese writer and professor at UCLA, is quoted in the Los Angeles Times article as saying he believes "one simply cannot fight against exclusion by reinventing new ways of marginalizing people".
An opportunity for representation for those who lack it
Janice Deul is the online lifestyle writer who started the media uproar about the Gorman translation in The Netherlands. According to Haidee Kotze she has been misunderstood and the real issue at stake is the missed opportunity for translators in terms of representation. Joe Biden's choice of Gorman as the reader of her own poem at his inauguration created a particular configuration of cultural value around precisely these qualities. Gorman's visibility, as a young black woman, matters: she is part of the message. "The choice of the translator, in this case, is similarly part of the message. It is about the opportunity, the space for visibility created by the act of translation, and who gets to occupy that space". What Deul was advocating for in her original piece, says Kotze, was not the shutting down of imaginative possibility in pursuit of political correctness, but precisely asking publishers to actively work towards the opening up of imaginative possibility, by creating space for a greater diversity of voices.
Giving visibilty to translation and translators
Author Nuria Barros, who has translated Gorman's poem into Spanish, writes in an article for El Pais that Janice Deul's "is the victory of identity politics over creative freedom, of the given over the imagination". Deul's logic "makes translators 'visible', when the essence of translators is to be 'invisible', she adds. "Their voice embraces all voices. In order to be everyone, they must dissolve and be reborn; to come out of themselves in order to enter into others. Contrary to other disciplines in which the artist seeks to have a voice, a stamp, to be Someone, in translation excellence is to be Nobody. It is a matter of not being." This default invisibility of translation, argues Haidee Kotze, makes the intensity, the reach and the staying power of the debate around the translation of Gorman's poem all the more noteworthy. What is it about this case, she asks, that has prompted a sudden outpouring of emotional and intellectual investment in translation, when most people, most of the time, give translation hardly a thought?
Is the Gorman debate really about translation?
Ultimately, the debate around the Gorman translation may not about translation at all. Translation was the spark that set off a deeper cultural battle, to quote Kotze. Instead, it could be seen as a call to the publishing industry to seek out opportunities to broaden participation and diversity, for writers and translators alike. "A lot of people are very hopeful for the future of diversity efforts like these; I'm still in the wait-and-see-box," says Miki Turner, a professor at the University of Southern California, founder of the Annenberg Cross-Cultural Student Association. It will be interesting to see what happens with the other linguists hired to translate Amanda Gorman's; discussions are likely to continue for some time yet. And, all the while, the sudden and unexpected interest in translation may help achieve greater recognition for the role of translators. Things are already moving in this respect, thanks to the establishment of prestigious international literary awards and prizes, shared by authors and translators, initiatives by influential translators, and awareness campaigns such as #NametheTranslator, but much remains to be done still. To be followed.
Sources
"Amanda Gorman brings the representation debate to the small world of book translation", Dorany Pineda, Los Angeles Times, March 22, 2021
"White author writes poem in response to criticism it was inappropriate to translate Amanda Gorman's work", Sophia Ankel, Insider, March 6, 2021
"The challenge of translating Amanda Gorman if you are white", Nuria Barrios, El Pais, March 12
"A translator for Amanda Gorman's poem has been dropped in Spain", Jack Guy, CNN Style, March 12
"Why controversies around cultural appropriation and identity politics should not end translations", Mridula Nath Chakraborty, The Conversation, March 14, 2021
"Alain Mabanckou : "La littérature ne devrait pas être tributaire d'une certaine couleur", Actualité, March 8, 2021
"Who should translate Amanda Gorman?", Jordi Nopca and Sílvia Marimon, ARA, March 13, 2021
"Missed opportunity: What the debate about Amanda Gorman's translators is really about", Haidee Kotze, Scroll.In, March 20, 2021
American Literary Translators Association (ALTA) statement on Gorman case, March 2021
"Amanda Gorman's Poetry United Critics. It's Dividing Translators", Alex Marshall, New York Times, March 26, 2021
Translations Of Amanda Gorman's Inaugural Poem Spark Debate: Can White Translators Interpret It?", Tonia Mosley, NPR, March 26, 2021
Photo credit Amanda Gorman, Wikipedia – By Chairman of the Joint Chiefs of Staff from Washington D.C, United States – 210120-D-WD757-2714, CC BY 2.0, https://commons.wikimedia.org/w/index.php?curid=99135513