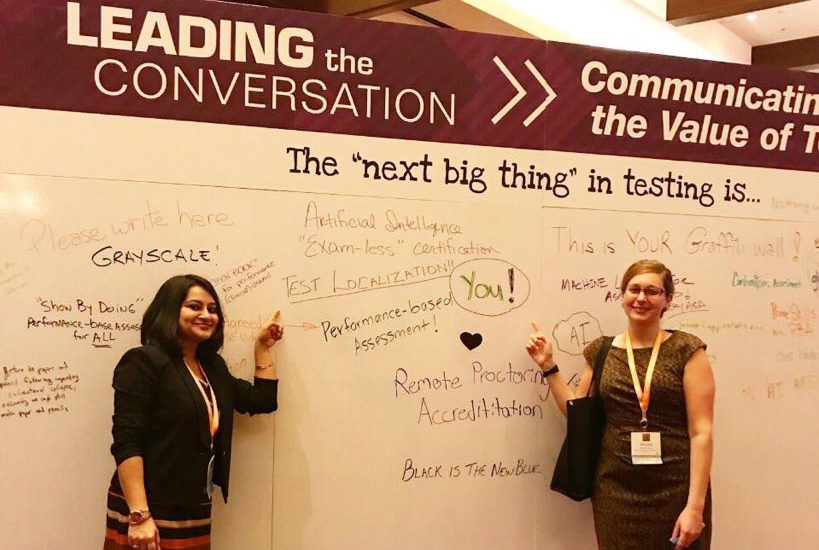 06.04.2018
ATP Innovations in Testing Conference 2018 in San Antonio
by Devasmita Ghosh – Enterprise Growth @ cApStAn//Marielle Lerner – Localization Specialist and Senior Project Manager @cApStAn
The cApStAn team attended ATP's annual conference on Innovations in Testing in the hill country outside historic San Antonio, Texas. The team was welcomed to what would be a high-energy, collaborative, jam-packed four days. There was a lot to learn and many people to meet. We made new connections during receptions, coffee breaks, exhibitor breaks and poster sessions, and had many enlightening conversations. We spoke to people engaging in or planning multilingual international projects who realize the need for language quality control. We could see that professional and technical certifications, as well as performance-based assessments, were of great interest. In particular, we were happy to hear during the opening session that reaching international markets is becoming more important to ATP.
The format of the ATP conference is unique – all sessions were long form, and in addition to presentations, they included engaging hands-on workshops, interactive panel discussions, and digital poster sessions. Topics ranged from foundational issues such as content development strategies, common pitfalls for item quality and their solutions, to the latest innovations in Automatic Item Generation, to the over-arching importance of the value of quality testing in the industry.
Although translation and localization were not the focus for this year's program, we found overlap and common ground in what we learned about current best practices for item development with our own translation quality assurance strategies. Learning about different approaches and models for Automatic Item Generation on the cutting edge gave us a lot to think about regarding how translation can be incorporated. We had some good conversations about exploring how translation can be taken into consideration in AIG models from beginning stages and also about how our processes are helping organizations in the tests and assessments space achieve their desired goals in localization.
We are looking forward to next year's conference already, and hope to continue to be more involved with the ATP organization and their conferences across different regions. Thank you to all the conference organizers and sponsors for providing such a productive, enjoyable experience!
…….
At cApStAn, we have now come of age: for 18 years, we have been shaping, testing, improving and spreading best practices in test adaptation and survey localisation. We pride ourselves in never having lost a client, perhaps because we are small enough to be flexible but large enough to handle larger projects (such as verifying linguistic equivalence of 100+ language versions in OECD/PISA). Find us on the web at capstan.be or call Steve Dept, our hands-on CEO, at +32 497 486 652.