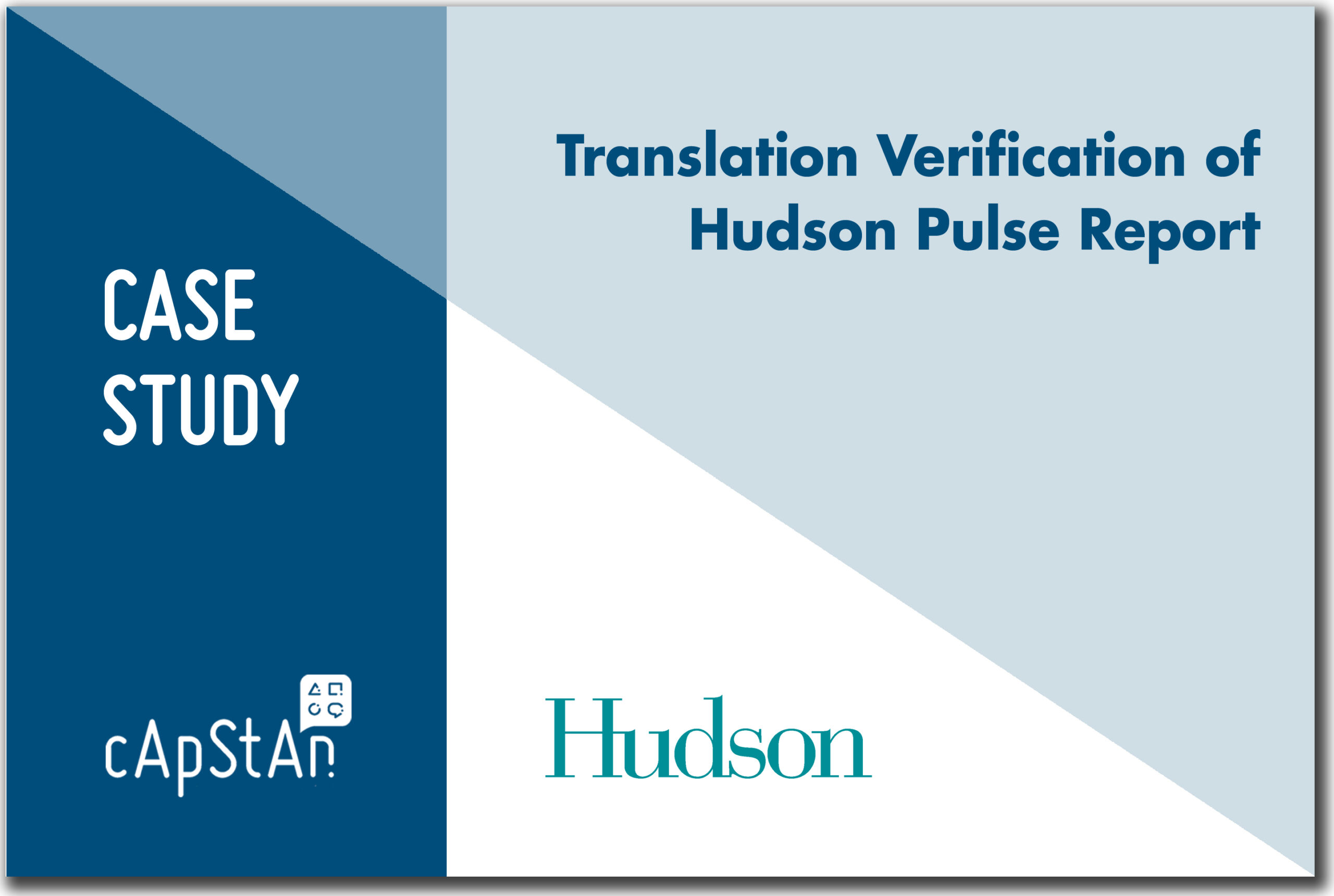 26.02.2022
Hudson Pulse Report
About Hudson
Hudson is a talent management company with services ranging from recruitment solutions and people development to HR strategies catering to multiple industries across the world. The Belgian-based Research & Development Centre develops a range of psychometric tests and assessments for hiring and employee development, some of which are made available to their clients in multiple languages.
For more information about HR Product Solutions, contact the Research & Development Centre at rdsupport@hudsonsolutions.com
The Pulse Report is an integration of the results of various psychometric tests (cognitive + non‑cognitive) for candidates. It provides insights to hiring managers and helps them make decisions and provide coaching guidance.
Project Scope
cApStAn was responsible for the upstream quality assurance steps before the translation began and for the verification of the English to German translations produced by Hudson's translation partner for the consolidated assessment report.
Challenges
Translating and adapting psychometric tests can be a major challenge as there is a real risk of meaning shifts that are language-driven and perception shifts that are culture-driven if not done with much care, following proven transadaptation methods.
When hiring and employee development decisions are highly dependent on such tests, it is crucial to ensure that the tests remain valid and fair in the target languages.
Hudson has dedicated language service providers. cApStAn's help was enlisted to provide an extra layer of quality assurance. This included a translation verification using verifier intervention categories, which provide information on the type of residual errors identified and proxy indicator of translation quality and equivalence to the master version.
Hudson provided cApStAn with an export, which needed to be segmented, processed, restored to the original format and imported back into their test delivery platform.
Project execution process

Outcome achieved
The robust linguist quality assurance and control design developed by cApStAn led to the successful on-time delivery of the project.
The project managers played an important role in coordinating with client and the linguists through the project and reviewed the materials thoroughly before delivering them to the client.
Technical issues were identified in connection with restoration of the master file format and importing the validated translation back into the platform, but these problems were resolved thanks to a collaborative effort between the Hudson and cApStAn teams.
Hudson was pleased with the quality of the final translations and partners with us for projects such as test verification and also organizing a workshop for their test authors on important aspects to keep in mind when developing tests that will need to be transadapted to multiple languages.
Want to try this out on your materials?
Select some sample items or sample questions, and request a free pilot at hermes@capstan.be or contact us via the form below for more details.