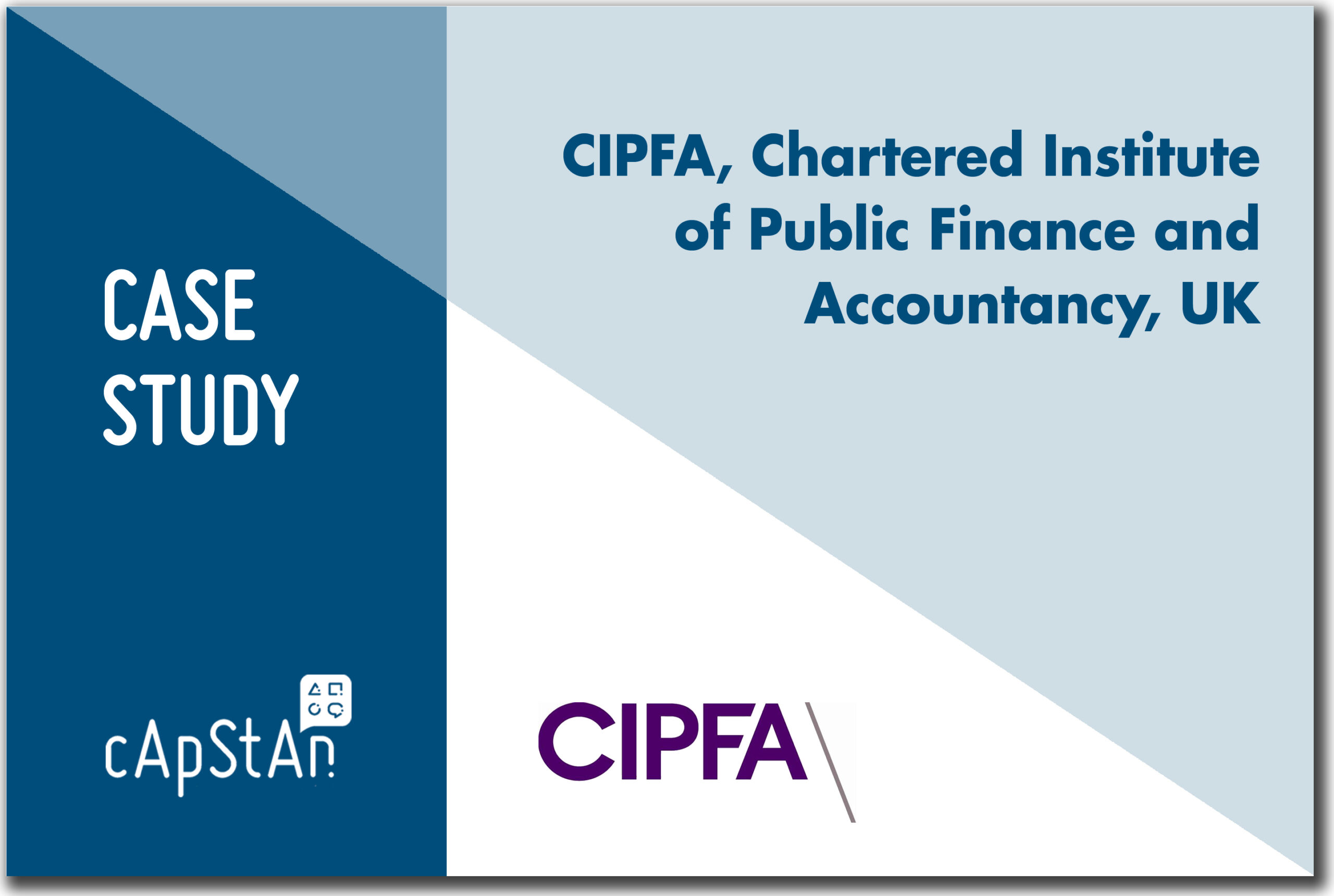 09.12.2022
CIPFA (Chartered Institute of Public Finance and Accountancy), UK
About CIPFA
CIPFA, the Chartered Institute of Public Finance and Accountancy, is the professional body for people in public finance. 14,000 members work throughout the public services, in national audit agencies, in major accountancy firms, and in other bodies where public money needs to be effectively and efficiently managed.
As the world's only professional accountancy body to specialise in public services, CIPFA's portfolio of qualifications are the foundation for a career in public finance. They include the benchmark professional qualification for public sector accountants as well as a postgraduate diploma for people already working in leadership positions.
Project Scope
cApStAn has been responsible for the upstream linguistic quality assurance steps and for the production of CIPFA's workbooks, question bank, solutions and live exams for the following qualifications and in the following languages:
– Financial Accounting material from English to French (for use in Europe)
– Audit & Assurance material from English to Russian (for use in Kazakhstan)
– Management Accounting and Financial Accounting material from English to Spanish (for use in South/Central America)
The linguistic quality assurance steps include preparation of bilingual glossaries, adhering to CIPFA's style guides and preparation of item by item translation and adaptation guidelines. All these materials were validated by the client before translations began. Post translation, domain specialists (chartered accountants) review and validate the translated material before final proofreading.
Challenges
Both the individual's career and the stewardship of public funds depend on adequate professional qualifications. It is crucial to maximise validity and reliability of the tests in the target languages. 
Translating and adapting materials in the finance and accounting domain can be a major challenge as there is a real risk of meaning shifts, particularly with regard to technical terms. It takes carefully implemented (and supervised) best practice to produce sterling adapted versions of the materials.
With cApStAn's focus on linguistic quality assurance steps before and after translations we strove towards making each translation fit for purpose. We worked with linguists experienced in translating professional certifications to translate the materials; and with finance and accounting domain experts in the required target languages to review their translations.
Project execution process

Outcome achieved
With the collaborative efforts between the CIPFA and cApStAn teams and our robust linguist quality assurance and control design, we were able successfully deliver multiple projects for CIPFA on time.
The project managers played an important role in coordinating with client, domain experts and the linguists through the project and reviewed the materials thoroughly before delivering them to the client.
The client is pleased with cApStAn's approach of handling such critical, high-stakes training modules and exams. The project was delivered within the scheduled timeline. CIPFA continues to work with cApStAn for its multilingual public finance accounting materials, including exams and question banks.
Want to try this out on your materials?
Select some sample items or sample questions, and request a free pilot at hermes@capstan.be or contact us via the form below for more details.