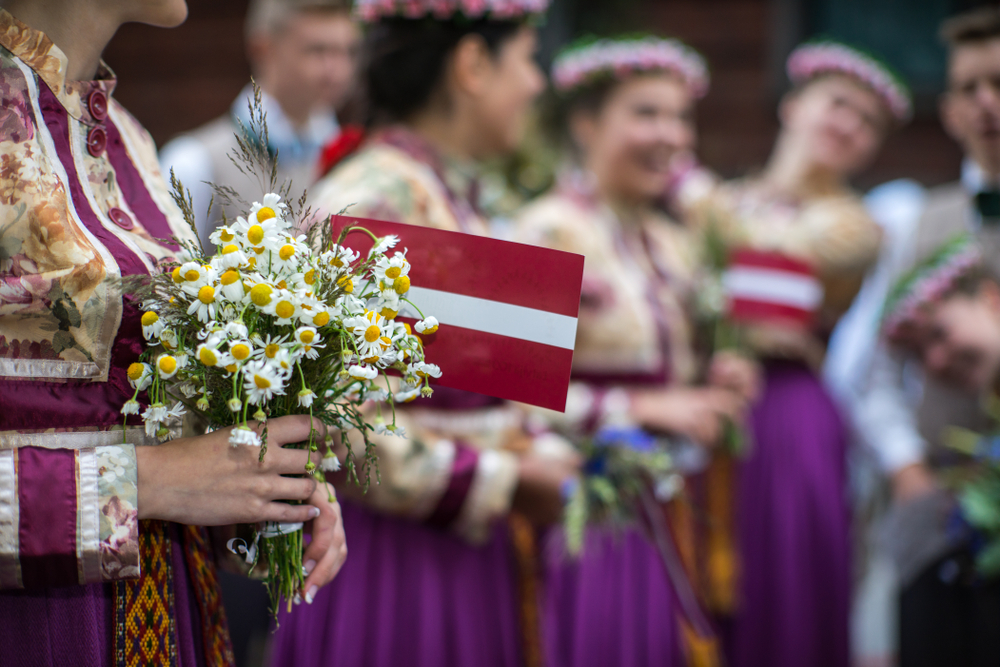 30.04.2021
Dainas, four-line Latvian poems created over 1,000 years ago, are getting a new major English translation
by Pisana Ferrari – cApStAn Ambassador to the Global Village
Like haikus in Japan, Latvia has its own poetic form, dainas, four-line poems that are either sung or recited. The origin of dainas, which have historically been transmitted orally from generation to generation, is still uncertain. The first dainas were written in the XVIth century, and they already had their final form at the time: the great majority was composed of trochaic or dactylic quatrains. Thanks to Krisjanis Barons (1835-1923), a writer and folklorist who encouraged Latvians to note down such quatrains, over a million of them are on file at the national library in Riga, the capital. During times of occupation and oppression dainas continued to be the main mode of transmission of Latvian culture and traditions. Dainas have also been an important tool for political contestation, a symbol of the Latvian identity. Shortly before Latvia became independent in 1991, entire crowds sang dainas during the so-called "Singing Revolution" (the events that led to the restoration of independence of the Baltic states from the USSR). The col­lec­tion of Dainas un­der the name "The Cab­i­net of Folk songs" was in­scribed in the UN­ESCO "Mem­ory of the World" Program in 2001. For the past 22 years, American-Latvian scholar Ieva Szentivanyi has been rendering dainas into English. Volume I of "Dainas: Wit and Wisdom of Ancient Latvian Poetry" was published on Latvia's 100th birthday, and it sold out in four months. Vol. ll has been sent for publication and Szentivanyi is already working on Vol. lll. Volume I contained 450 translated dainas, Volume II 900, so that there are only 650 missing before Szentivanyi's dream of 2,000 is reached.
"Transforming" dainas into English
Many scholars say that this canon of folk poems is as significant as any body of classical literature. According to Szentivanyi they belong right next to Western classics and the Bible in terms of their literary value and weight. However, dainas are less known than haiku in Japan, for example, or other literary forms in general. It is said that dainas are so closely intertwined with the Latvian country's nature, culture, myths, heroes, deities, history and identity that, possibly, only Latvians can truly understand and enjoy them. The historical era depicted in the dainas is also very difficult to pinpoint. Sometimes particular words and phrases or certain objects mentioned can help one to narrow down the century. In the biography posted on her website Szentivanyi says that bringing the dainas to the English-speaking public has been a source of great joy but also of great frustration. She claims that she doesn't translate the dainas – she calls it "transforming into English". The rhythm of Latvian is hard to render, she says. "In English the emphasis can dance everywhere. But the Latvian can only be pum, pum, pum…". It is also difficult to convey the language's frequent diminutive suffixes. The English diminutive of "book" is "booklet"; in Latvian, she explains, it is more like a "dearest, sweetest, most beloved book" ("how many "dear" and "sweet" can an English version contain without sounding unbearably cloying? she asks). And there is no way to say certain ancient Latvian expressions in English, such as saulīt tecēj' tecēdama, literally "the sun was flowing". Ieva not only transforms each Daina into English in her books, but she also describes and explains it so that it can be understood by foreigners.
Singing as the core of Latvian identity
The former president of Latvia (1999-2007), scientist, professor, and folklore scholar Mrs. Vaira Vīķe-Freiberga, has said that "To the Latvian, dainas are more than a literary tradition. They are the very embodiment of his cultural heritage, left by forefathers whom history had denied other, more tangible forms of expression. These songs thus form the very core of the Latvian identity and singing becomes one of the identifying qualities of a Latvian." Vaira Vīķe-Freiberga herself has sung a selection of the Latvian musical repertoire for a CD published by the Culture Management Centre Lauska. And, on September 19, 2017, she gave a talk to a group of space scientists on "The Sun and The Cosmos in Latvian dainas" where she speaks of the importance of dainas and explains how in pre-scientific times Latvian people described the world around them through poetic metaphor and symbolism. See: https://www.youtube.com/watch?v=NcSHFqh4l-A
About Ieva Szentivanyi
Ieva Szentivanyi and her family fled Latvia after the USSR's annexation of the country in 1944 and lived with thousands of others in displaced people's camps for seven years until they were allowed to enter the USA legally and settle in Cleveland, Ohio. In later years Szentivanyi lived in different countries, including Saudi Arabia, before returning to the US, where she lives in Los Angeles. She is a linguist and architect, as well as a retired teacher. Her decision to translate Latvian poetry stemmed from her wish to share the "wit and wisdom" of dainas with the rest of the world. After having searched all the English translations of dainas Szentivanyi says she could find none that came close to capturing their spirit, gentleness and elegance. For years she hoped some inspired poet would recreate them in English in all their beauty, but nothing happened. So she started translating them herself.
Examples of dainas
Birch tree, dear, thou art so ample
All the way to the ground
Dearest wife, thou art so lovely
All the way to deep old age
Sweetest sun so soon is setting.
'Bandoned in the shade am I.
Dearest mother, gone forever,
None to set me in the sun.
Matters not how I grew up,
Songs have always been with me;
Sweet songs helped me all my life
Even hardest tasks to do.
Lovely is my father's land
More than any other place:
High its hills and broad its valleys,
Blue the waters of its sea.
About haikus
A haiku is traditionally a Japanese poem consisting of three short lines, with 17 syllables in total. The first line is 5 syllables, the second 7, the third 5. The origins of haiku poems can be traced back as far as the 9th century.
Sources
"Latvia's ancient poetry is getting its first major translation" , The Economist, April 3, 2021
Ieva Sentivani-Auziņa's "Latvian Wit and Wisdom" website
Ieva Sentivani-Auziņa's "Latvian Wit and Wisdom" Facebook page
"Latvian Folksongs – Dainas", Daina Gross, 2021 National Library of Latvia
"American Latvian transforms Latvian folksongs into English", LSM.LV, Public broadcasting, October 13, 2020
"Daina : A little-known short form of poetry from Latvia", Jean-Baptiste Roncari, translated by Rodolphe Leclerc, Le Journal International, October 3, 2014
"Latvian Folk songs – Dainas", Latvia.eu
"Literature Review: Dainas – Wit and Wisdom of Ancient Latvian Poetry", Līga Horgana, Latvia Weekly, August 21, 2019