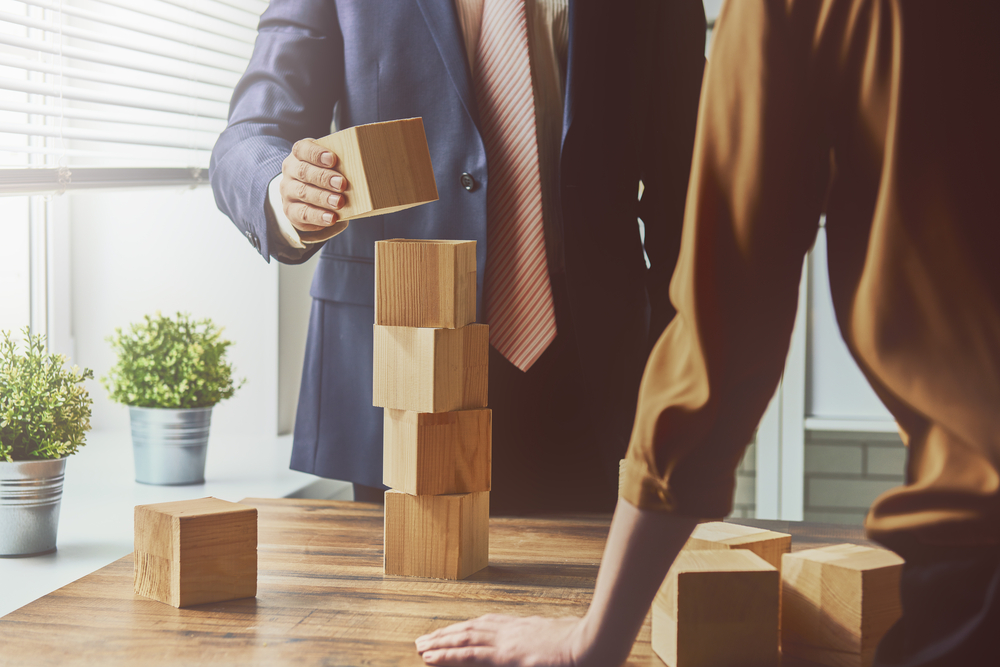 cApStAn's Modular Approach to a Test or Survey Translation Process
by Pisana Ferrari – cApStAn Ambassador to the Global Village
Cross-cultural adaptation and validation of data collection instruments requires a Linguistic Quality Assurance (LQA) design that will ensure that multiple language versions of a test or questionnaire will meet the highest standards of linguistic, cultural and functional equivalence.
Clients can have very different requirements in terms of time and resources, as well as of purpose and life-cycle of the document to be adapted. That is why maximum flexibility is essential in order to best cater to each client's specific needs.
At cApStAn our clients can cherry-pick the best combination of our languageservices from a choice of 22 modules, or building blocks, with which they can mix and match to assemble a coherent project with the most suitable workflow.
In line with cApStAn's holistic approach to translation and adaptation the 22 modules cover both pre‑translation work (translatability assessment, item-writer workshops, translation and adaptation notes, selecting the right translation technology) and post‑translation work (linguistic verification, cultural suitability review).
Why does our linguistic quality assurance process include pre-translation work?
In our 20+ year experience in the translation and linguistic quality assurance business, with a focus on high-stakes tests, assessments and surveys, we have found that it is best to address possible ambiguities in meaning, as well as idioms and colloqualisms, or any other potential translation issues, very early on. That is why we make a strong case for linguists to be involved in the initial stages of the test or survey design.
Why does our linguistic quality control process include post-translation work?
We verify linguistic equivalence of assessments translated by third parties and maximize cross-language comparability of tests or surveys. This includes scrutiny of linguistic features that drive the psychometric properties of the items, qualitative and quantitative reports using standardized verifier intervention categories, and proposals for corrective action.
As explained below, the 11 cApStAn modules in key moments A and B are implemented before the actual translation process begins; the 5 modules in key moment C relate to the actual translation process; and the 6 modules in key moment D take place after the translation/adaptation process.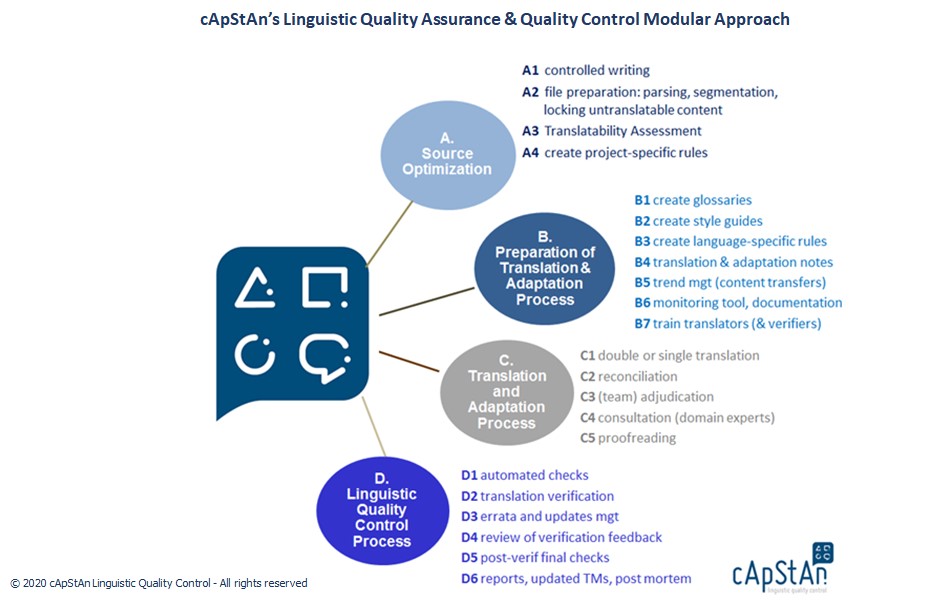 BEFORE TRANSLATION
KEY MOMENT A is about optimization of the source version
A1 – Controlled writing
Workshops to raise awareness of translatability issues in item writers/question authors and to assist them in writing more "translatable content (free of idioms, ambiguities, unnecessary complexities).
A2 – File preparation
A translation technologist to set up translation projects in more manageable, stable, convenient formats. This includes parsing and segmentation and "locking" untranslatable content.
A3 – Translatability Assessment (TA)
In cApStAn's TA process each draft source item is checked against a set of 14 translatability categories to help identify potential translation, adaptation or cultural hurdles. This is one of our top services (and applied in OECD PISA)!
A4 – Project-specific rules
Project-specific attributes need to be predefined together with the client, to handle markup, fills, special tags, routing, or dynamic text, efficiently and correctly.
BEFORE TRANSLATION
KEY MOMENT B is about leveraging language assets
B1 – Glossaries
They contain words and terms that need to be translated consistently in the document. A well constructed glossary will allow for automated checks on consistency of adherence.
B2 – Style Guides
These relate to typographic conventions, forms of address, notation of numbers, time, mathematical units, etc. Here again once style guides are constructed content can can be checked automatically for consistency.
B3 – Language-specific Rules
Creating language-specific rules (that can be defined as regular expressions and checked automatically) may require input from external linguists; once responses are collected the information needs to be converted to rules.
B4 – Translation and Adaptation Notes (T&A notes)
If concepts, alternatives, objectives, possible ambiguities or intended meaning of certain terms or expressions are explained frequently, clearly and concisely, the impact on quality is immense.
B5 – Content Transfers
Projects may include a component that needs to be (almost) identical to, or (minimally) adapted from previous editions of the same project. We help you manage consistency between the two with translation memory management.
B6 – Monitoring Tools, Documentation
Comprehensive documentation of translation, adaptation and linguistic quality control procedures and feedback is central to cApStAn's LQA offer. This will typically include the translation history of each item in each language.
B7 – Train Translators and Verifiers
Good translation project management most often boils down to being able to draft and to convey clear and concise instructions for difficult tasks. Essential to the success of any complex localization project.
DURING TRANSLATION
KEY MOMENT C is about seeking optimal translation/adaptation design
C1 – Double or Single Translation
A vast module, where cApStAn can help determine whether double translation is warranted/ sustainable for a given project and what skills translators should have, or can propose hybrid approaches, including man-machine translation.
C2 – Reconciliation
In case of double translation, there is reconciliation (which is done by a reconciler, who merges translation 1 and 2 into a final version that takes over the best elements of each).
C3 – (Team) Adjudication
cApStAn has set up precise procedures for (team) adjudication, including preparation and follow-up. Senior cApStAn staff can assist in moderating adjudication meetings, and in documenting outcomes.
C4 – Consultation of Domain Experts
For specialized content cApStAn may enlist the help of bilingual subject matter experts, or SMEs, to coordinate their work with our linguists, and document it.
C5 – Proofreading
An essential stage in any translation and adaptation process. The assumption is that it should always be performed by a LSP (or a member of cApStAn core staff) who was not involved in the production of the translation.
AFTER TRANSLATION
KEY MOMENT D is about the Linguistic Quality Control (LQC) process
D1 – Automated Checks
At cApStAn we have developed a set of web-based application prototypes, using regular expressions. Functionality has been developed to parse and analyse bilingual documents.
D2 – Translation Verification
cApStAn's systematic use of a list of categories that describe translation quality and equivalence issues help report on translation quality in a standardized way and generate relevant statistics.
D3 – Errata and Updates Management
Residual errors are sometimes spotted in the source versions while files are already being processed. In the case of multiple languages, it is important to manage such errata well so that necessary edits can be implemented.
D4 – Review of Verification Feedback
This module consists in a systematic review of verifier feedback. Verification deliverables combine the verifier's linguistic expertise & cultural sensitivity and the reviewer's thoroughness.
D5 – Post-Verification Final Checks
In some projects, this is optional. When verifiers have made suggestions, it may be requested to double-check whether the issue raised by the verifier has been addressed correctly.
D6 – Reports, Updated TMs, Post-mortem
Technical reports that confirm that validation practices have been implemented; translation memory updates (based on the most final version of materials) and final debriefing session.
We are keen to learn more about your test or survey localization initiatives and how we can assist you with quality assurance through cApStAn's modular approach for language services.