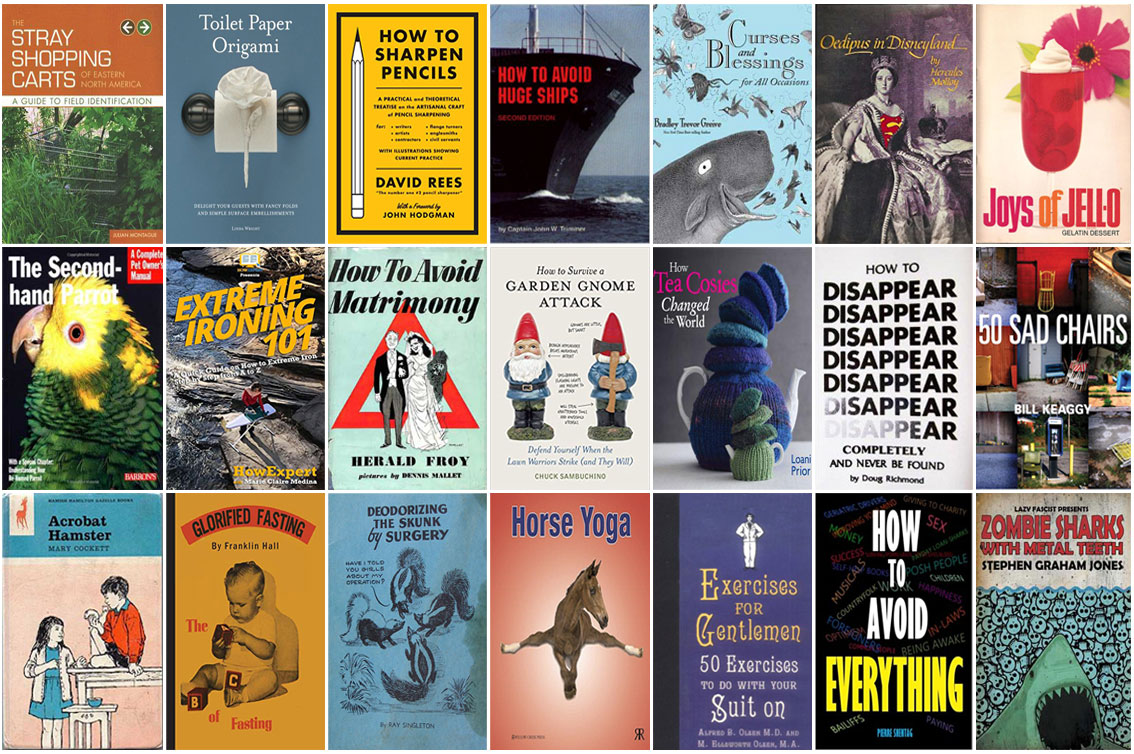 12.11.2020
A compendium of some of the most eccentric books ever written
by Pisana Ferrari – cApStAn Ambassador to the Global Village
Edward Brooke-Hitching's The Madman's Library: The Greatest Curiosities of Literature is hot off the Simon & Schuster Ltd press (published October 2020). In it the English author has put together an impressive collection of some of the strangest books ever written and produced. The author's passion for books dates back to his childhood: he grew up in a rare book shop, with a rare book dealer for a father. As the book's review for The Guardian reads "the Madman's Library is an utterly joyous journey into the deepest eccentricities of the human mind – was that they "make you realise that, above everything, people have always been funny, been weird, been unquenchably curious in every possible arena". Yes indeed, judging by what he has come up with! We have picked out some examples from Brooke-Hitchings's work and added a few more from other sources, including Barne & Nobles, The Weird Bookroom, Book Riot, Mental Floss, Twitter and our blog, to put together our own personal selection of twenty unique books.
Cut out
La Confession Coupée … ou la méthode facile pour se preparer aux confessions (1677), by French cleric Christophe Leuterbreuver, is a catalogue of every 17th-century sin conceivable. Each misdeed is printed on a tab that could be peeled away from the page to stand out, helping the confessor to flick quickly through. It was so popular that there were reprints up to one century later.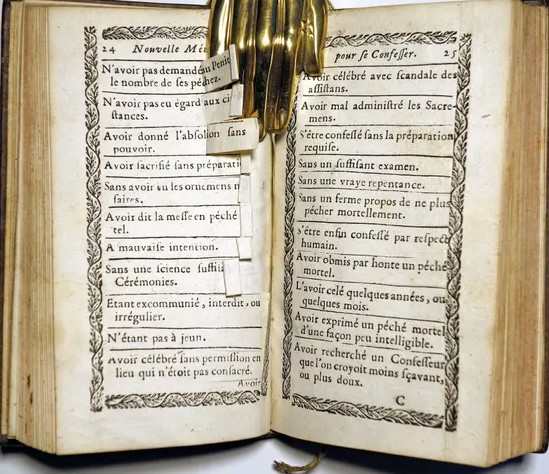 For his book Tree of Codes (2010), US author Jonathan Safran Foer took Polish author Bruno Schulz's book The Street of Crocodiles and cut out the majority of the words to carve out an entirely new story. The book has been widely considered a unique work of art. The story has been adapted into a ballet by choreographer Wayne McGregor, composer Jamie xx, and visual artist Olafur Eliasson, and Australian composer Liza Lim has adapted it into an opera.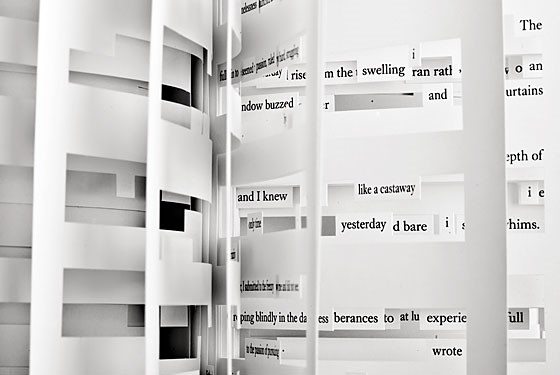 Oversized
Pátria Amada (2014) took 23 years' work by 37 people and cost £205,000. It is a 7.5-ton and 2.10 metre high book, with 41,000 pages containing every possible Brazilian tax code existing at the time, created by Vinicius Leôncio as a form of protest against the complexity of Brazilian tax laws. There are no plans to publish a second edition!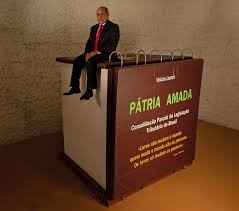 Organic
Blood Qur'an (1999): in 1997, to celebrate his 60th birthday, the Iraqi dictator Saddam Hussein commissioned master calligrapher Abbas Shakir Joudi al-Baghdadi to produce a Qur'an written in his blood. Almost 30 litres of blood were drained over a period of two years to write out the 336,000 words in 6,000 verses. The book was on display for some time at Umm al-Ma'arik (Mother of All Battles) mosque in Baghdad.
De integritatis et corruptionis virginum (1663), by Séverin Pineau, is a treatise on virginity, pregnancy and childbirth, printed in Amsterdam. The book's owner, Dr Ludovic Bouland, explains in a note that the book was re-dressed in a piece of the skin of a woman "tanned for myself". It appears that in Europe and the US, mostly in the 18th and 19th centuries, binding a book in human skin was an acceptable decorative extra when publishing accounts of murderers' crimes and medical studies.
20 Slices of American Cheese (2018), by Ben Denzer, a New York artist, designer and publisher. Only 10 copies were made of this book which contains a packet of 24 slices of plastic-wrapped Kraft American cheese slices. Encouraged by the success of his cheese book, Denzer went on to create "20 Sweeteners" and "5 Ketchups".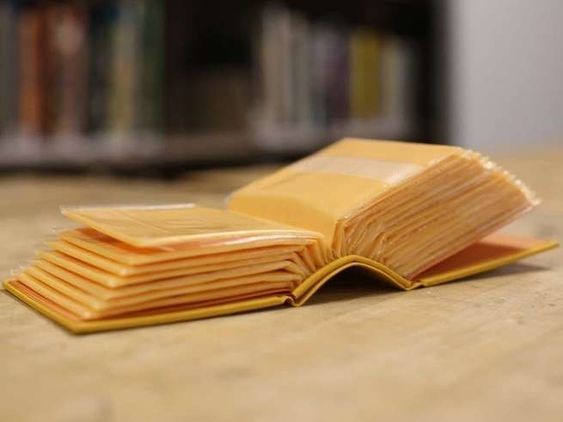 Literary acrobatics
La disparition (1969), by French author Georges Perec is a 300 page novel without a single "e" in it. Georges Perec was part of the "Oulipo", group, consisting of (mainly) French-speaking writers and mathematicians seeking to create works using constrained writing techniques. His translators followed the literary constraint, see also our article on Perec and his work at this link Perec later went on to write Les Revenentes (1972), where "e" is the only vowel used.
One- or two-sentence novels
Dancing Lessons for the Advanced in Age (1995), by Hrabal Bohumil, is a story about an old man who approaches some women on a beach and begins telling them stories from his life. The entire novel is rendered as a single sentence. Hrabal, who has been cited as a major literary influence by Milan Kundera and Ivan Klima, among others, is generally considered the most revered living Czech author.
Ducks, Newburyport (2019), by British author Lucy Ellmann, is written in the stream of consciousness narrative style, and consists of mostly a single sentence, running over more than 1,000 pages. It is an internal dialogue of a Ohio housewife who ponders a variety of topics, ideas, recollections, and individual words in a list that spans almost the entire novel. It won the 2019 Goldsmiths Prize and was shortlisted for the 2019 Booker Prize.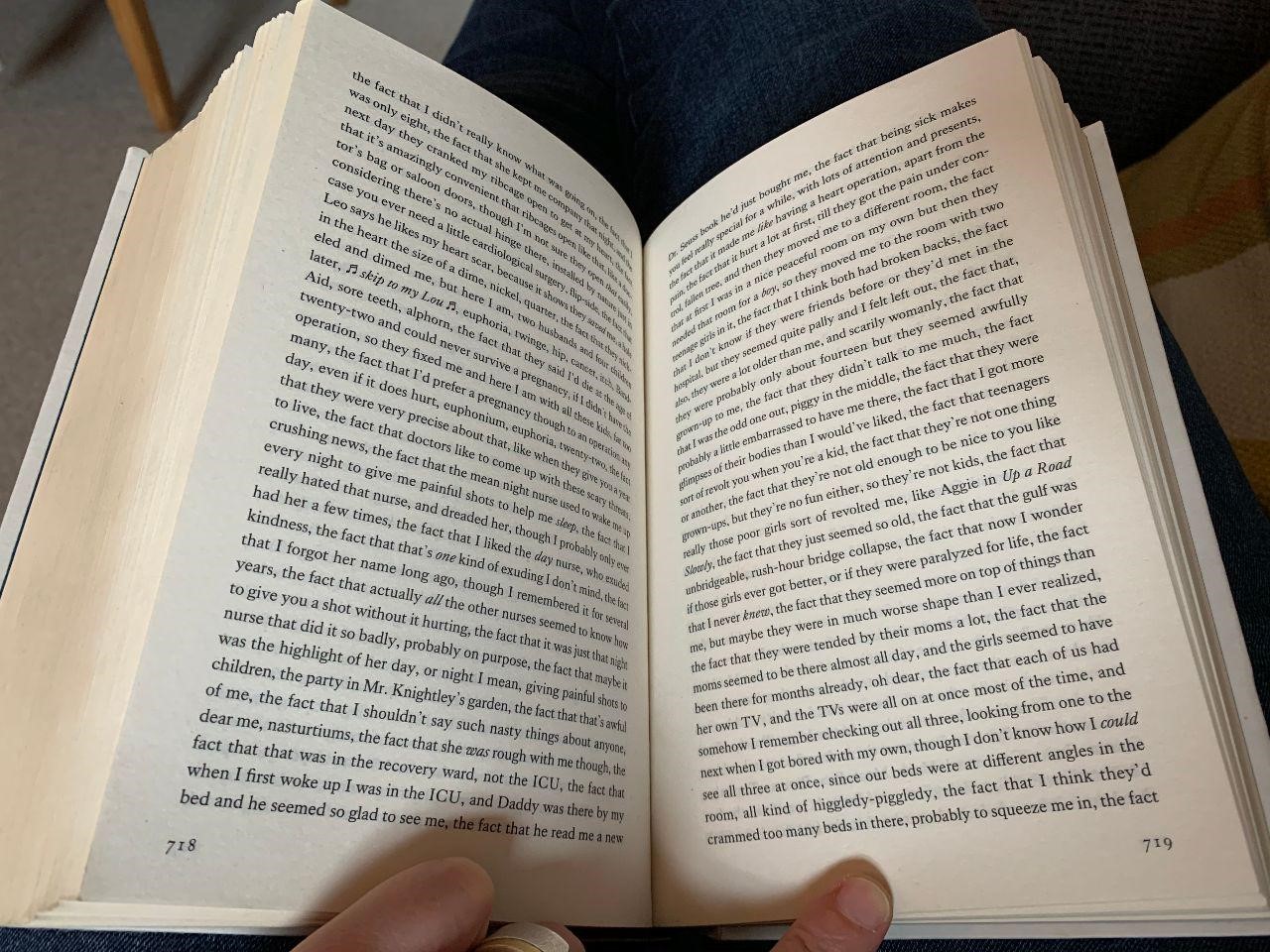 The Gates of Paradise (1960), by Polish author Jerzy Andrzejewski consists of 40,000 words that form two sentences — the second of which contains only five words: "And they marched all night" — that tell the story of the 1212 Children's Crusade. Andrzejewski was a prolific Polish author; his works confronts controversial moral issues such as betrayal, the Jews and Auschwitz in the wartime. His novels Ashes and Diamonds and Holy Week have been made into film adaptations by the Oscar-winning Polish director Andrzej Wajda.
Novel(s) within a novel
If on a Winter's Night a Traveler (1979), by Italian author Italo Calvino, is a novel about you reading this novel which turns out to be not one novel but ten, each with a different plot, style, ambience, and author, and each interrupted at a moment of suspense. The book was influenced by the author's membership in the literary group Oulipo (see also above, Georges Perec). The Telegraph included the novel in 69th place in a list of "100 novels everyone should read" in 2009, describing it as a "playful postmodernist puzzle". Calvino was immensely popular and was the most translated contemporary Italian writer at the time of his death in 1985.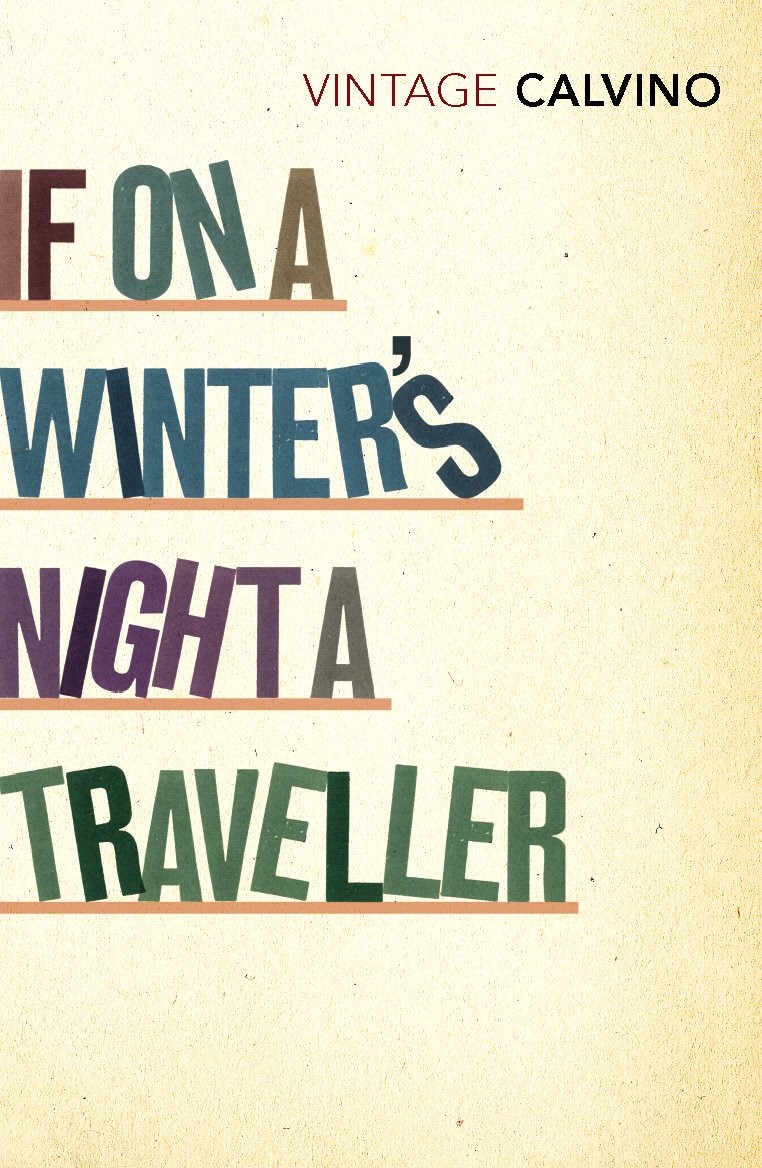 Book within a book
S. (2013), by Emmy award director J.J. Abrams (Star Wars), and noted novelist Doug Dorst, is presented in the form of a novel called Ship of Theseus, written by an elusive author named V. M. Straka and published in 1949, borrowed and never returned to a library, containing hand-written notes filling the book's margins written by Eric and Jen, two students seeking to solve the mystery of Straka's identity and disappearance. The book also includes loose notes and other materials such as postcards and maps.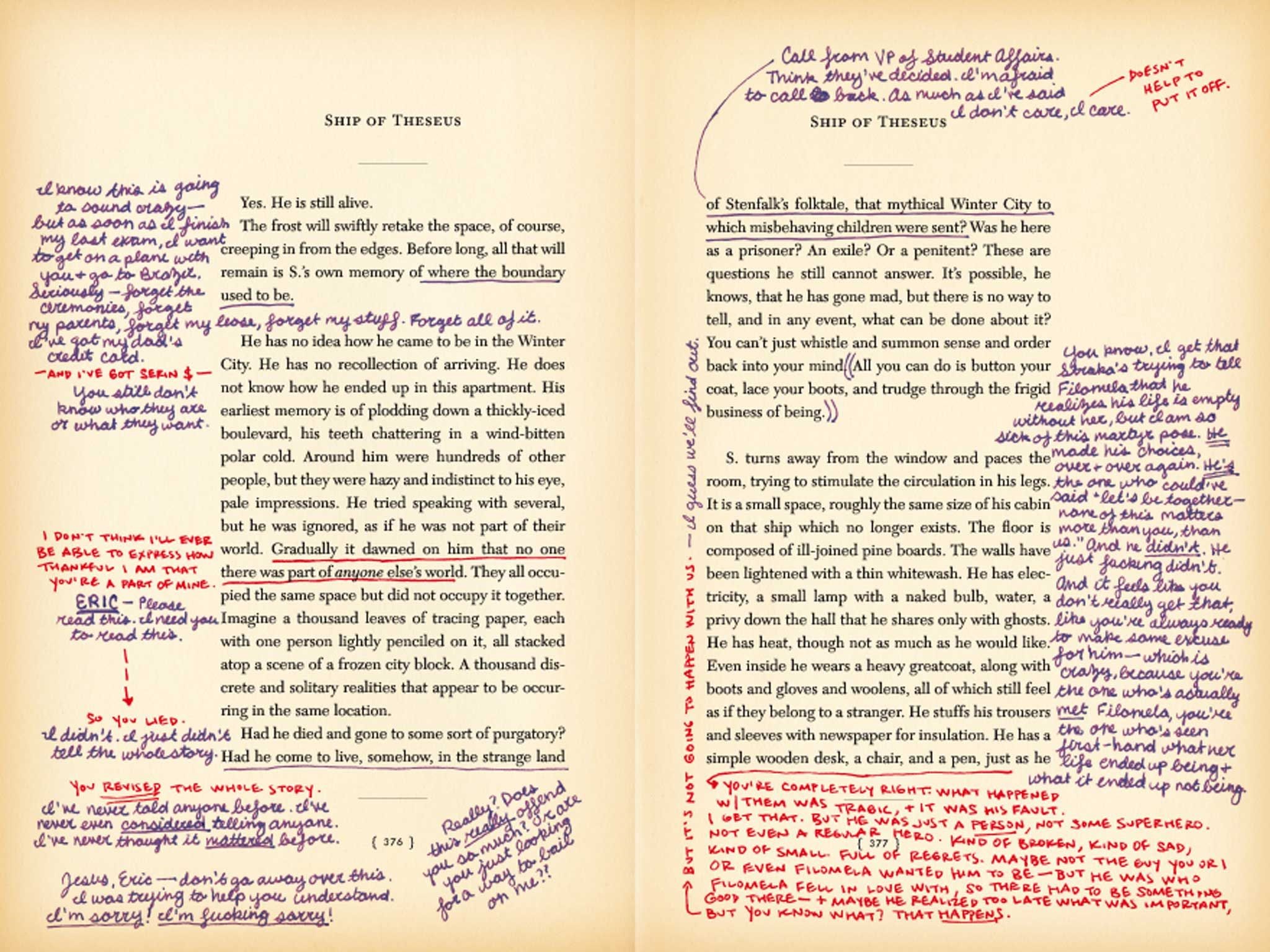 The-time-of-an-escalator-ride novels
The mezzanine (1988), by Nicholas Barker: the entire novel takes place in the mind of an office worker in the time as he rides an escalator up one floor afer his lunch break. The Mezzanine was the writer's first novel and was highly praised for its originality and linguistic virtuosity. The story is told through numerous footnotes and, near the end of the book, there is a multi-page footnote about the footnotes themselves.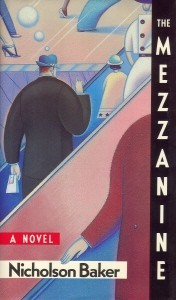 Emoji books
Emoji Dick (2013), by US writer and computer scientist Ben Benenson, is a crowd-funded translation of Herman Melville's Moby Dick into emoji, and the first emoji book acquired by the Library of Congress. It was translated with the help of Amazon Mechanical Turk worker and the results were voted upon by another set of workers.
Pinocchio in EmojiItaliano (2018), by Italian academic Francesca Chiusaroli and her team, was compiled from "translations" from Italian to emoji of the best-selling novel Pinocchio voted among suggestions coming from the Twitter community. It comes with a preface explaining the rationale of the project, a detailed glossary, and contains a few pages of simple and intuitive grammar rules. See also our article about Emoji Pinocchio at at this link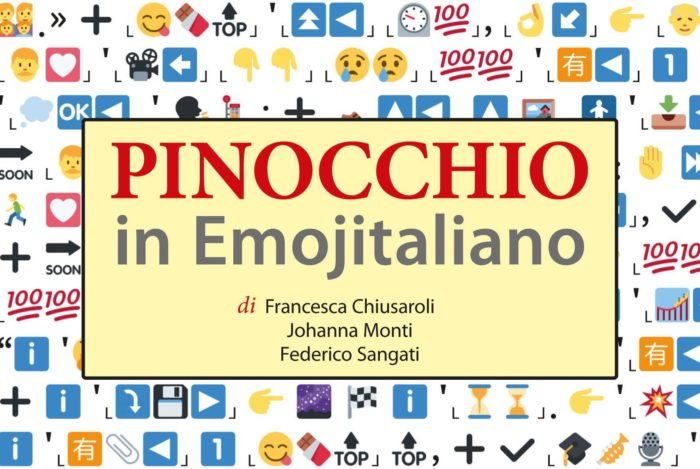 Multiple endings
Hopscotch (1963), by Argentian author Julio Cortazar, is divided into 155 chapters, and author provides a table of instructions on how to read it. He suggests to either to go straight through from chapters 1-56, ignoring the other "expendable" 99 chapters, or else "hopscotching" through the novel randomly from chapter to chapter (actually the 99 expendable chapters are not expendable at all but fill in important gaps in the story). The author has said he intended it as a "counter-novel", an exploration with multiple endings, a neverending search through unanswerable questions.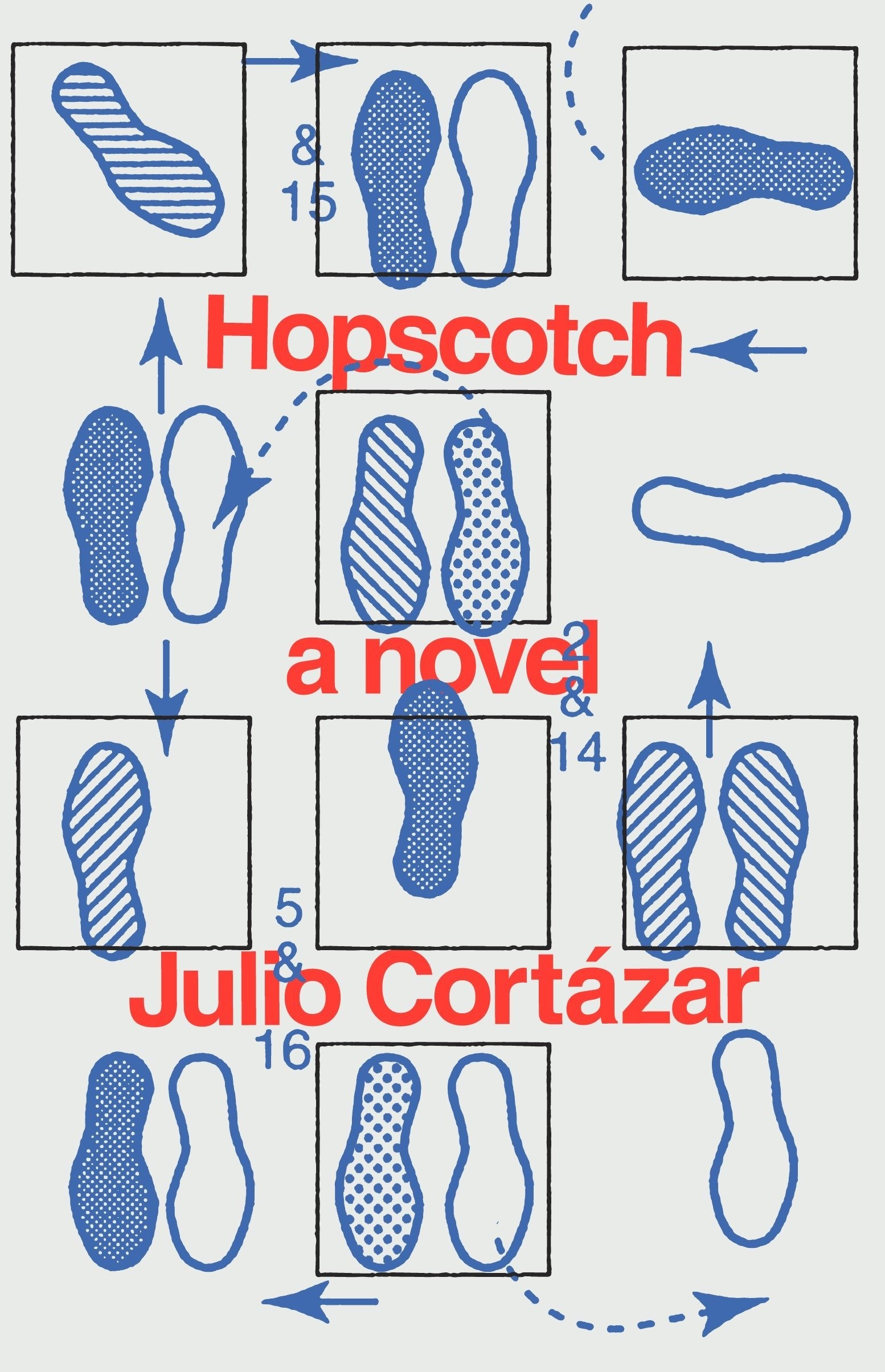 Playful
The Familiar, Volume 1 (2015), by Mark Z. Danielewski is the first of a planned 27-volume story (five are already out as of today). The first volume takes place over the course of a single day: May 10, 2014. Its story weaves together nine different narratives from across the globe that continue to develop in subsequent volumes. This work is unique in that it incorporates different fonts and colours for each character's point of view, and a number of different layout and typesetting effects.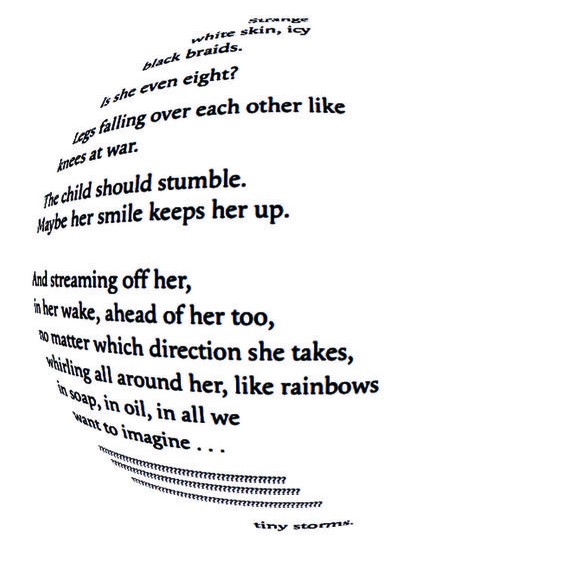 The Lover's Dictionary (2011), by American author David Levithan, is the chronicle of a romantic relationship based entirely of dictionary entries, in alphabetical order, which spell out the joys and struggles of everday life together. The author has described it as "a story about love, in all its messy complicated reality."
Sources
"From cut-out confessions to cheese pages: browse the world's strangest books", Alison Flood, The Guardian, October 1, 2020
"Weird Book Room", AbeBooks
"8 books so unique they have no readalikes", Jeff Somers, Barnes & Noble Reads, October 14, 2015
"7 Books with Unusual and Unconventional Formats", Melissa Baron, Book Riot, Feb 11, 2018
"39 Weird Books That Really Exist", Roma Panganiban and Michele Debczak, Mental Floss, September 11, 2015
"Awe insipiring one sentence novels you never knew existed", The GLOCAL Experience Team, July 15, 2018
"Weird Books for your Coffee Table", Aconite Cafe, December 11, 2019